A recent survey by the American Society of Association Executives (ASAE) and Avenue M Group revealed that a majority of associations (75%) are not considering more in-office days—and that the balance they've found is working.
Finding the sweet spot of in-office days has been elusive for many companies, but associations seem to have nailed it.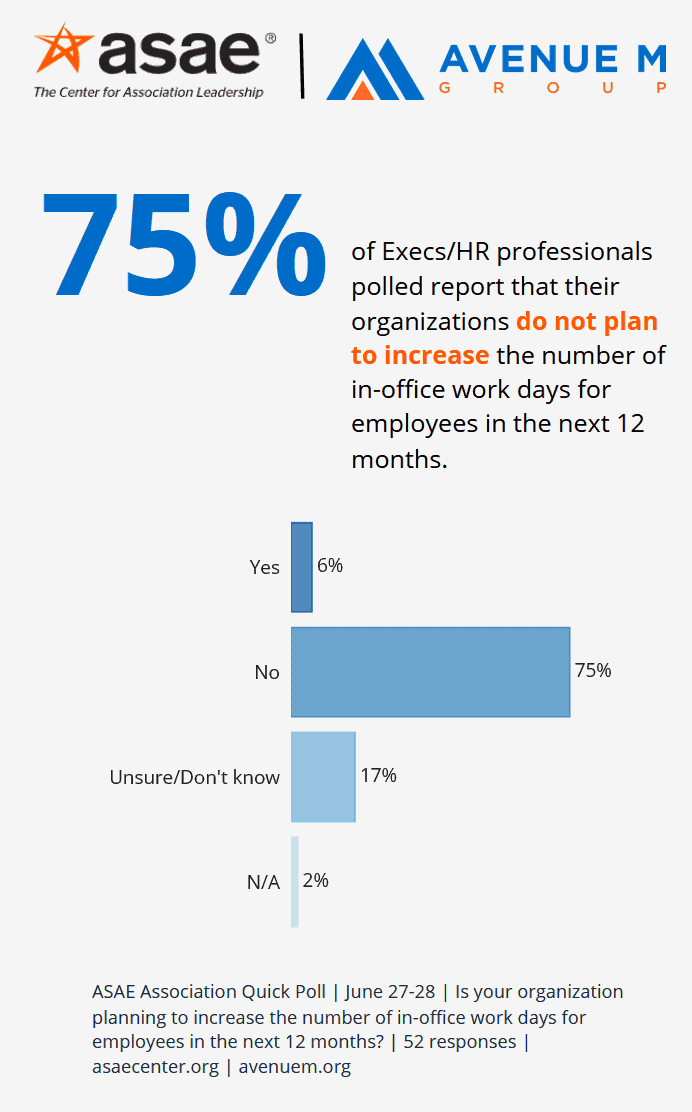 A majority (75 percent) of HR executives and CEOs said they had no plans to increase the number of in-office workdays in the next 12 months. A minority—only 6 percent—said they are considering increasing days in the office, and 17 percent of associations were unsure or didn't know, according to a late-June ASAE and Avenue M Group text poll.
The survey results come amid reports of big-name companies that are attempting to lure workers back into the office, with mixed results.
After Disney implemented a policy in January requiring employees to be in the office four days a week, thousands of employees signed a petition against the policy, according to The Washington Post. Google said its employees would only be able to work remotely in extremely rare cases and recently cracked down saying that failure to come into the office could affect performance reviews.
For now, associations are showing they have adapted well to a very new normal that has no immediate signs of change. When asked why they're not considering changing existing in-office days, one HR professional said, "We believe the current schedule provides sufficient balance between in-person collaboration and flexibility."
Another HR leader said, "We are in the office three days each week on the same days. We don't anticipate a need to change, as collaboration and relationships are managed effectively."
One HR executive explained, "It would be too much of a fight with staff. They already hate being in the office one day a week. We are not willing at this time to increase the days in the office."
Associations, not always known for keeping pace with workplace trends, have adapted to a new—and perhaps inescapable reality, which is that fully onsite work will likely "remain a relic of the past," according to a Gallup poll.
In addition to the overwhelming number of associations that said they didn't plan to increase days in the office, several panelists said their organizations have shifted to fully remote. One association leader said, "[We are] 100 percent virtual. We have no office for our 50-staff team. So, no regular in-office days. However, we get together quarterly for Collaboration Week." Another said, "We transitioned to a fully remote staff structure in October. There's no physical office to go back to." And one noted, "Our organization is 100 percent remote and has been since March 2020."
More Reasons Leaders Are Not Increasing In-Office Workdays

"Two days seem like enough. Also, people would not like to come in more."
"A recent staff survey shows our employees feel more productive working from home without distractions."
"The current schedule is working well."
"This meets our organizational and staff needs."
Click HERE to participate in future polls.
Associations have found success in striking the right balance of in-office days, demonstrating their ability to adapt, respond to staff preferences, and find new ways of working in-office and remotely.
For more insights on hybrid and remote trends, read Avenue M's quick summaries of the following resources and click the links below.
Full-Time Office Work Is 'Dead': 3 Labor Experts Weigh in on the Future of Remote Work
Remote work has become a permanent perk in the U.S. job market, with labor economists confirming that the traditional five-day office workweek is no longer the norm and stating that remote work is here to stay.
The benefits of remote work include reduced commute times, flexible schedules, increased employee retention, wider talent pools, cost savings, and potential wage adjustments.
Hybrid work models, combining remote and office days, have gained popularity, boosting productivity and saving commuting time, with 39 percent of new hires having hybrid arrangements. However, remote work availability varies by occupation and geography.
Blueprint for the Hybrid Office
The pandemic shattered preconceived notions about work, prompting associations to reconsider physical workspaces, embrace remote work flexibility, and evaluate cost savings from reduced office space.
Remote converts. The American Industrial Hygiene Association (AIHA) and the American Association of Veterinary State Boards (AAVSB) fully embraced remote work. AIHA downsized its office space, while AAVSB created a more collaborative office environment because employees overwhelmingly preferred remote work. AIHA CEO Larry Sloan, CAE, said, "I really did a 180 on allowing folks to expand their teleworking. I quickly became a convert."
A phased approach. The Center for Health Affairs prioritized employee well-being and said it would maintain a hybrid workforce, considering both the physical safety and mental health of staff based on their positive remote work experiences and feedback.
Listening to employees' preferences and rethinking traditional ways of working have led many associations to reconsider everything and find balance.
The Companies Backtracking on Flexible Work
Major corporations like Disney, Starbucks, Twitter, and KPMG are reversing their workplace flexibility policies and mandating more in-person workdays or full-time office patterns, despite studies showing that employees value flexible work for reduced burnout and improved work-life balance.
This shift reflects a mismatch between what employers and workers want, with economic uncertainty giving employers the upper hand in enforcing their working practices.
 Want to be the first to be notified about articles like this? You can learn more about Avenue M's texting poll service HERE.
Contributors: Lisa Boylan
(Image: Adobe Stock)