Is There a Right Number of Days to Be in the Office?
59% of association executives say they don't require employees to be in the office each week.
Remote-first or office-first (and remote friendly)? That is the question many association executives had to figure out as they established a policy that would attract and retain today's employees. The popularity of hybrid work exploded during the pandemic and employees demonstrated they could effectively work remotely–even surprising the most ardent in-office sticklers.
It's not a stretch to understand why: Employees are human beings who have lives outside of work and once employees had a chance to experience the autonomy of a remote or hybrid work schedule, it was a pretty safe bet it would be hard for workers to relinquish that increased flexibility, work-life balance, and focus time.
Listening to employees was key, and leaders felt compelled to give back to their workers who had given so much during an unprecedented time in the American workplace. Many organizations shifted seamlessly to an all-remote work environment, without a compass, and employees didn't drop the ball.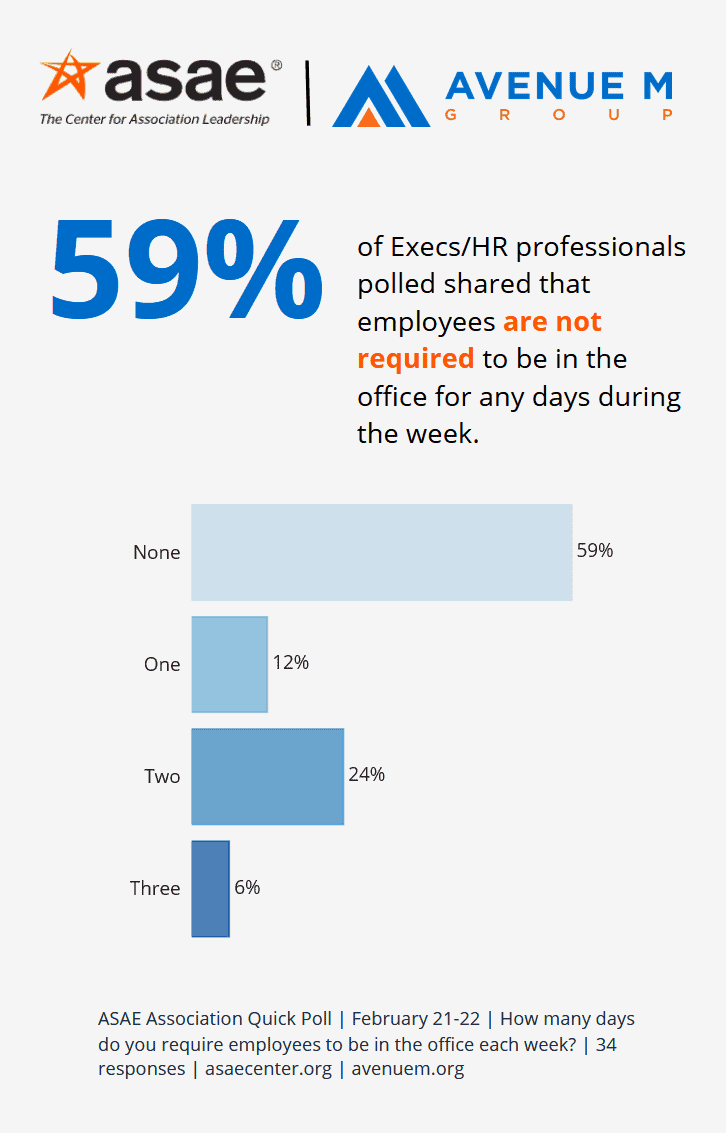 What are associations doing to balance this tectonic shift in workplace culture? In a recent poll conducted by ASAE and Avenue M in late February with 34 association executives and HR professionals, 59% shared that their organization does not require employees to be in the office each week, 24% said they require workers to be in the office two days a week, 12% said one day a week, and 6% said three days a week.
When asked what made them decide on the number of days they chose, one panelist, whose organization does not require employees in the office each week, said their team was "very productive" throughout the pandemic shutdown and "proved they could work from anywhere."
Also, employee surveys showed that most of the staff wanted a remote work option to continue and believed they could maintain their productivity levels without coming into the office. "We believe it makes us more competitive in the marketplace and we have a broader talent pool from which to recruit," the executive said.
Another executive, who also doesn't require staff to be in the office, said their employees worked well from home, so the organization launched three surveys asking employees how often they wanted to come into the office. One employee said they would like to work in the office instead of at home. As a result, the group is renting a shared office space that any employee can use.
"It has reduced our overhead by $10,000 a month," the HR executive said.
One leader, who requires staff to be in the office two days a week, said they were trying to balance what employees want and what leadership expects. Another said they tried leaving the decision to employees. They found two days in office provided the flexibility employees wanted, while still allowing the organization to build its "culture of collaboration."
Want to partipate in future text polls? You can sign up HERE.
Everyone is trying to navigate the right balance of fully remote and hybrid options. Read our quick summaries of the following articles–and a podcast–and click the links below.
Will Hybrid Office Challenges Ease in 2023?
A Canadian survey suggests that one day per week in the office is the sweet spot for remote work. However, workers who can come into the office when they want tend to have lower stress levels, higher levels of trust in their employers, and better job performance. The catch? They report lower levels of connection to their colleagues.
Because any hybrid work environment requires some training and acclimation, a workplace consultant suggests training that involves a conversation about why people come into the office and what skills are useful in that setting.
He also recommends in-person training for soft skills, such as communication, conflict resolution, and persuasion, which can increase engagement.
Successful Hybrid Work Model Requires Intentionality and Flexibility
To make hybrid work successful, organizations should experiment and try different things to figure out what works best for their team, taking into consideration their culture, team productivity, and feedback from employees.
Instead of prescribing hybrid work as working in the office some days and working from home on others, organizations can consider a preference-based setup where some employees work remotely all the time, while others work in-person all or most of the time.
If things aren't working, organizations need to be willing to change and be flexible in adjusting their policies to meet the evolving needs of their employees and the company. The ability to be nimble and flexible is key to the success of hybrid teams.
Employee Flexibility, Autonomy, and Everything in Between
Regardless of their preference for working from home or the office, most people prefer making autonomous decisions regarding when, where, and how to work, according to the Society for Human Resource Management's (SHRM) All Things Work podcast.
While there are challenges to finding the right balance between remote and in-office work, and some resistance to returning to the office still exists, many employees understand the need to give up some flexibility for the greater good.
Hybrid workplaces are a popular solution, but clear guidelines need to be set to avoid conflicts and confusion. Organizations should communicate expectations to employees and establish clear rules that are perceived as fair and respectful.
Want to be the first to be notified about articles like this?
 Want to be the first to be notified about articles like this? You can learn more about Avenue M's texting poll service HERE.
Contributors: Sheri Jacobs, FASAE, CAE & Lisa Boylan