Pivot Point
Reshaping Your Business When It Matters Most
Examples abound of once-dominant organizations that succumbed to competitors and start-ups because they failed to adjust their business model when such a shift amid rapid change could have made all the difference.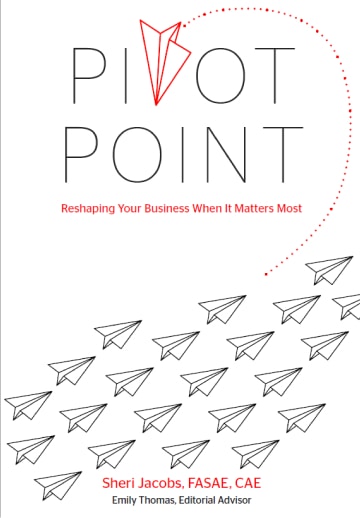 Pivot Point: Reshaping Your Business When It Matters Most provides a guide for creating an organization that is more responsive, nimble, and open to the dynamic nature of its operating environments. Organizations experiencing sustainable success are willing to take risks, fail and learn from their efforts, and continually adapt their business model to build the highest value proposition possible.
Drawing from research, interviews with association thought leaders who have successfully altered their organization's business model, and observations garnered from working with hundreds of associations, author Sheri Jacobs distills a structure and key elements for pivoting that include
Comprehending the current landscape

Incorporating five essential characteristics

Creating the right culture to achieve future goals

Building a stronger value proposition to drive engagement and retention

Using research to guide change.
Case studies provide readers with insights and lessons learned by organizations that have altered their models. A "Pivot Readiness Checklist" gives readers an opportunity to assess their organization's ability to adapt to meet shifting needs and behaviors. CEOs, board members, and senior staff will be inspired and energized by the thought-provoking ideas in this must-have resource.
You can find Pivot Point at the ASAE Bookstore. ASAE member and quantity-purchase discounts are available. (2018, ISBN 978-0-88034-397-8, 178 pages, hardcover)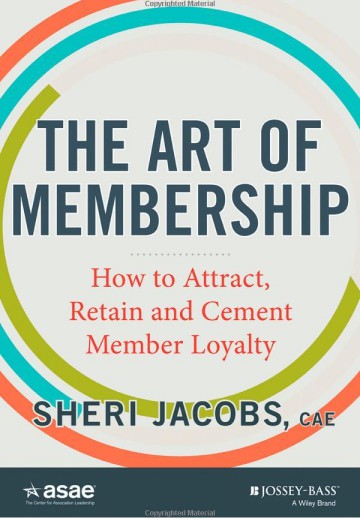 Author Sheri Jacobs, FASAE, CAE, presents principles for membership based on years of experience working for and consulting associations, ASAE research, and conducting more than 40 market research studies. The Art of Membership will give you the framework and knowledge to create and customize a solid membership strategy no matter what size your organization is or which industry or sector it serves. Just a few of the topics covered include:
Finding Your Value (including a chapter on pricing strategies)

Defining Your Members (Are they members or customers?)

Selling Your Organization

Personalizing the Process--which includes a chapter on overcoming objections and another chapter on engagement, onboarding, and the first 90 days.
The book is filled with association cases, examples, checklists, and worksheets to walk you through the concepts of goal, strategy, and tactics--everything you need to create your membership to-do list.
You can find The Art of Membership: How to Attract, Retain and Cement Member Loyalty on the ASAE website.  (2014, 288 pages, hardcover)
Membership is what it's all about for most associations. With dues being the largest source of revenue for many associations, membership is often called the lifeline of associations. But like everything else, it's constantly evolving. Your membership program, strategy, and tactics should evolve too. Membership Essentials can help with that.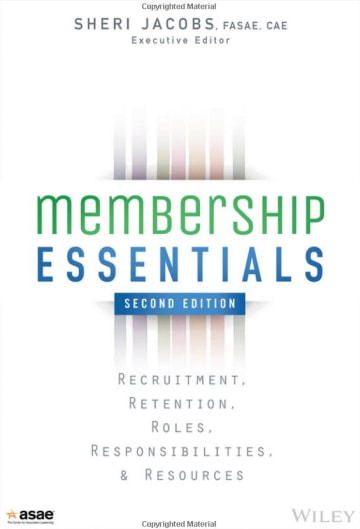 This new edition of a perennial bestseller and CAE Core Resource covers every facet of membership, from recruiting and engaging new members to membership retention and everything in between. The comprehensive examination of this critical area of association management will benefit those trying to structure a department, train staff, or make adjustments to their current tactics and strategies. In it, you'll find:
formulas for calculating financial metrics
sample infographics and dashboards
tables and figures offering examples, research data, and more
case studies
Membership Essentials reflects the expertise and experience of thought leaders from the association community and membership guru Sheri Jacobs, FASAE, CAE, who served as executive editor. Make sure you're well informed on current membership trends and best practices.
You can find the second edition of Membership Essentials: Recruitment, Retention, Roles, Responsibilities, and Resources on the ASAE website.  (2016, ISBN 978-1-118-97624-1, 304 pages)