Balancing flexibility with realistic in-office expectations, more than half of associations said they are not opting for a shorter workweek, but a surprising number are open to it or already have one in place.
Practically unheard of just a few years ago, the idea is gaining traction across the globe. What's changed? Many organizations and their employees experienced what real work-life balance was when work suddenly switched to remote.
And now that employees are used to the flexibility of a less structured workweek, shaping a successful hybrid work model has not been easy, much less one-size-fits-all. Added to that, the push for a shorter workweek is back on the table, with 32-hour workweek legislation recently reintroduced in Congress, and new research to back it up.
A recent U.K. four-day workweek study revealed that workers who participated in the six-month pilot were less stressed, and nearly three-quarters were less burned out. Businesses saw a 57 percent drop in employee turnover–and revenue didn't decrease. Plus, less work time didn't mean less work got done.
In a recent study conducted by ASAE and Avenue M in early May, more than half (56 percent) of CEOs and HR leaders shared that their organization would not consider offering a shorter workweek (i.e., less than 37.5 hours). Fifteen percent said they would consider it, 13 percent said they already were offering it, and 16 percent were unsure or didn't know.
While a four-day workweek may not be the solution for all organizations, many are providing flexibility in other ways by keeping employee mental health and personal lives in mind.
"We offer a great deal of flexibility of balancing personal needs with professional needs and accommodating flexible scheduling, such as early release Fridays in the summer. If we reduced the workweek, we'd likely have to add staff to accomplish the work," said one executive, whose group is not considering a shorter workweek
One HR leader, whose group is offering a shorter workweek, said, "We offer every other Friday off for mental health days without having to work additional time, so essentially we work a 32-hour work week every other week. We find people are more productive."
Another HR executive, whose organization is not offering it, said, "I don't have an issue with having a shorter workweek, but we're already having debates about maintaining our two days per week in-office." They added that they are working hard to keep the hybrid working environment as a benefit for employees, so they "don't have the leeway to ask for additional benefits."
One CEO, whose group is already offering a shorter week, said, "It is not promised, but Fridays are short days. It allows an employee to work from home sometimes while scheduling appointments close to home."
An executive, who said they didn't know or were unsure about offering one, said, "We all already have full plates of work at 37.5 hours a week."
An HR leader, whose group is also not offering one, said, "We are a membership organization and strive to provide the best service to our members. We do offer half-day Fridays in summer months."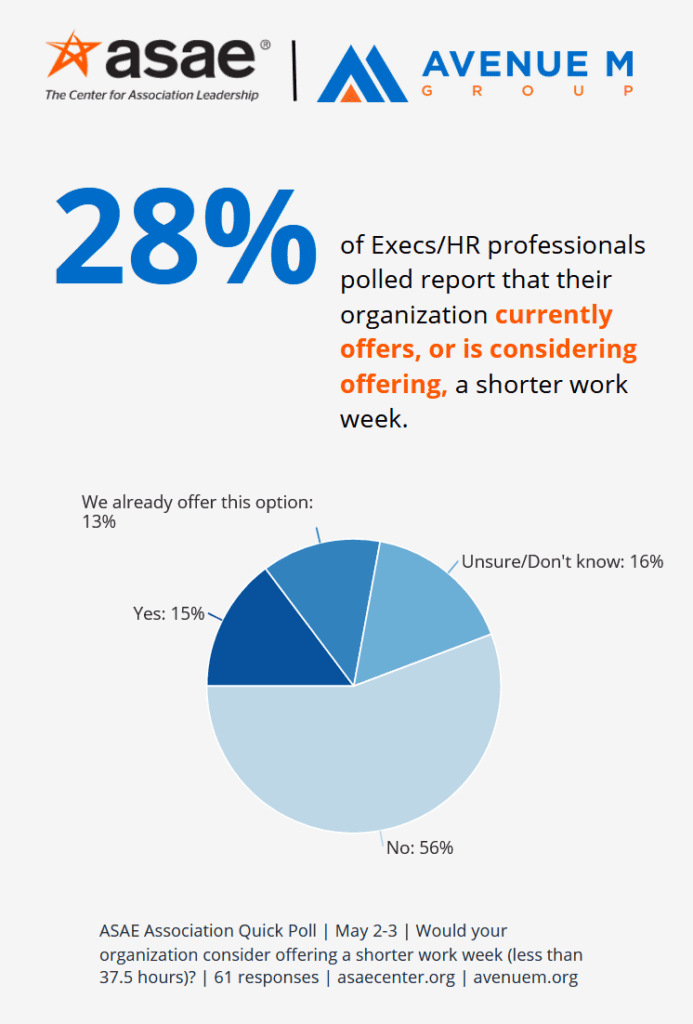 Click HERE to participate in future polls.
For more insights on the pros and cons of a shorter workweek, read our quick summaries of the following resources and click the links below.
Why the Hybrid Office Still Isn't Settled Yet
Associations are trying to create a post-COVID workplace that works for everyone. Some are now considering a four-day workweek as an alternative to hybrid work arrangements, which is backed up by a recent study that found it increased employee wellness with no drop in productivity.
Flexibility is crucial for retaining the best employees who want work-life balance, which means leaders should discuss with employees what works for them and be open to experimentation. This process, called "motivational interviewing," helps learn what motivates employees.
Bottom line? Associations should be open to new arrangements and experiment to create a post-COVID workplace that works for everyone.
About a Third of U.S. Workers Who Can Work From Home Now Do So All The Time
A recent survey by Pew Research Center revealed that while the number of full-time work-from-home employees has decreased, more people now prefer a mix of office and home. But hybrid workers still need to show up in-person for some days. Notably—many people who are working most of the time from home now want to do it permanently.
The survey also found that the main upside of remote work is the flexibility it gives employees to balance their work and personal lives. Over half say it helps with deadlines, while few feel it affects productivity. But more than half miss bonding with co-workers, though they said it doesn't harm their satisfaction with work relationships.
The Surprising Benefits of Working Four Days A Week
Want to try a shorter workweek? It's not for everyone, but it can make employees happier and healthier, and boost productivity.
The good news is, you don't have to switch to a four-day workweek right away, but you could start by cutting unnecessary hours, addressing inefficiencies, and minimizing distractions to streamline your business without sacrificing productivity.
A four-day workweek is not the only option—get creative and find a solution that works for your team.
Want to be the first to be notified about articles like this?
You can learn more about Avenue M's new texting poll service HERE. Ready to sign up? Click HERE.
Contributors: Sheri Jacobs, FASAE, CAE & Lisa Boylan