Implementing modified summer hours has boosted association employee happiness and work-life balance. While 53% of associations offer the perk, leaders emphasize that the suitability of summer hours depends on the nature of the organization and its specific demands.
Summer is officially here and that means longer daylight hours, an (often) slower pace, and more time to focus on family and fun activities outside of work. In response to the more laid-back vibe, many organizations, recognizing that employees needed a boost—especially during the pandemic—implemented modified summer hours to give employees time to recharge, connect with loved ones, and truly find work-life balance.
Far from being a nice nod to the season, it turns out summer hours actually do contribute to employee satisfaction, according to a 2022 poll, which revealed 85 percent of workers said the perk made them happier at work.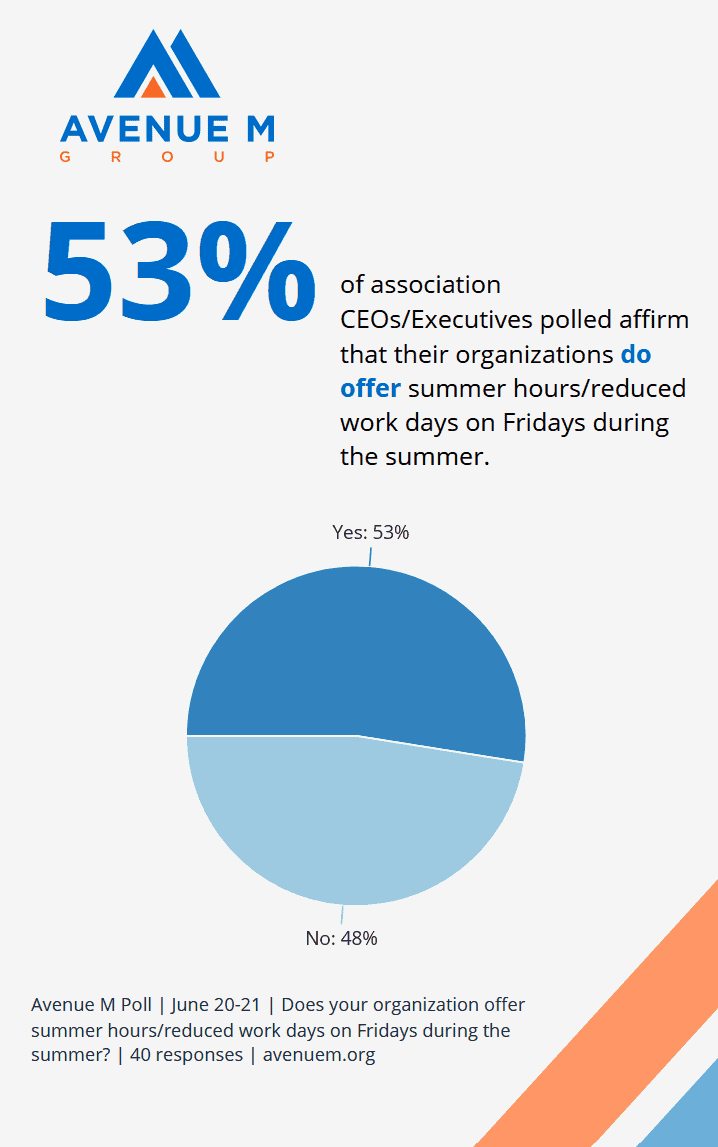 Associations are part of the trend. A late-June text poll conducted by Avenue M found that over half—53 percent—of associations said they offer some form of modified summer hours, while 48 percent do not.
When asked what effect summer hours has had on employees, several executives pointed to "improved morale." One executive noted that "employees appreciate the sensitivity to work-life balance." Another leader said the advantages have been a "happier team" and that it's "good for wellness."
One leader, who explained the perk is not limited to summer, said, "We offer this year-round, and it is great for morale and the productivity of our employees."
Another executive, who previously offered them, said, "We used to offer summer hours many years ago, but it was a benefit the meetings team could not take advantage of because of a major fall meeting. It didn't seem fair to all."
Which is true, summer hours are not always right for every organization. One leader said, "Our national meeting occurs in mid to late July. We also run several programs for high school students and teachers. So, the summer is one of the busiest times for us." And another explained, "We offer flexible work hours and hybrid work so staff can make this happen for any day they might need flexibility."
Modified summer hours have many benefits. The work-life balance can boost employee morale and increase productivity when staff are more focused and engaged on accomplishing goals in a shorter amount of time. But that doesn't mean it's the right fit for everyone.
Want to partipate in future text polls? You can sign up HERE.
For more insights on effectively adopting a modified work schedule, read Avenue M's quick summaries of the following resources and click the links below.
A CEO Explains Why He Reduced Employees' Hours During the Summer
CEO Ian Wright discusses takeaways of offering employees shorter workweeks during the summer with SHRM Online. While initially there was a slight drop in productivity due to the shorter workweek, the positive impact on mental health made it a worthwhile trade-off, Wright said.
Pros: Flexible summer hours are popular, enhancing work-life balance, happiness, morale, and productivity. They also demonstrate trust in employees' workload management and enjoyment of time off.
Cons: Shorter hours can stress workers, and some may not take time off. Slack-offs and communication issues can arise, lowering productivity. It's not suitable for all organizations, especially those with specific staffing needs or client-facing roles.
Tips for Success: For effective summer hours, communicate clearly, stay consistent, and consider your business's needs and flexibility.
A CEO's Advice on Adopting an Alternating Four-Day Workweek
Recognizing the commitment of his team during a difficult time and the ongoing burnout and stress, a CEO and his leadership team proactively acted and adopted an alternating four-day workweek pilot for four months.
After the pilot ended, an employee survey revealed that 100 percent of employees wanted to continue the flexible work schedule, with 85 percent of employees reporting increased happiness, rest, and work-life balance, enabling them to spend quality time with their families on extended weekends.
The CEO said implementing summer Fridays taught his employees better week planning and improved meeting organization. Fridays are valued as uninterrupted "deep work" days, reducing stress. Overall, the experience has been positive, with no major drawbacks, indicating potential for a permanent benefit.
Summer Fridays Gain Traction With Employers
Happy employees are vital for an organization's success. Offering perks like summer Fridays boosts morale, work-life balance, and productivity. However, its practicality depends on the industry, as some businesses may need alternative ways to retain talent without impacting operations.
Here are some ideas for making the process work for everyone.
Consider a four-day workweek for employees to have Fridays off without compromising productivity.
Update payroll software to reflect the new schedule and ensure accurate payment.
Document the summer Friday policy in the employee handbook, acknowledging potential policy adjustments based on productivity needs.
 Want to be the first to be notified about articles like this? You can learn more about Avenue M's texting poll service HERE.
Contributors: Sheri Jacobs, FASAE, CAE & Lisa Boylan
(Image: Adobe Stock)