Most associations recognize the importance of providing resources to help employee mental-health and well-being. 
Not only is burnout real, but it can also be a serious impediment to the productivity, performance, and morale of an organization.
You may have heard the recent buzzword in the media "quiet quitting" whereby burned out employees do the minimum required while still collecting their salaries.
What's more, employees suffering from high levels of burnout report lower job satisfaction, less confidence that their employers care about them, and a higher likelihood of seeking another job in the next year, according to an Aflac Resources Report.
In a recent poll conducted by ASAE and Avenue M in early March with 33 association executives and HR professionals, 91 percent shared that they are concerned about staff burnout, while only 9 percent said they are not.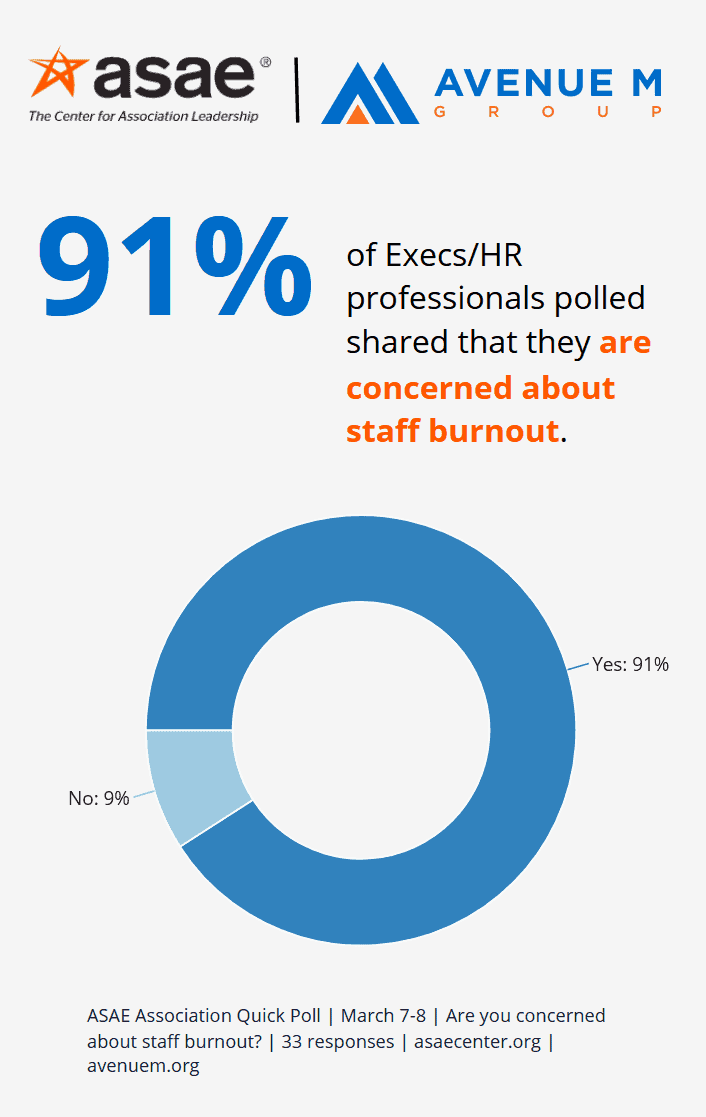 When asked if their associations offer anything to help reduce burnout, ASAE and Avenue M text poll panelists shared that they are taking various measures to support the mental health of their employees.
One panelist shared, "We're trying. [We offer] flexible work hours and engagement and social events to help them take a break. Next month we're doing a session on the importance of self-care using an outside psychologist."
Other panelists listed mental health counseling, mental health days, mental health apps, employee assistance programs (EAPs), healthcare concierges, adjusted workloads, flexible/hybrid work schedules, onsite workout rooms, facilitated well-being sessions (e.g., yoga, meditation, and stretching), social outings, and unlimited leave. However, one HR professional noted that despite the generous leave policies, many employees don't take advantage of them.
It's also important to remember burnout not only affects staff members, CEOs can experience it too. Fortunately, as burnout loses its stigmatization and the issue becomes more widely recognized as a workplace problem, there are many solutions to effectively respond to employee burnout.
Want to partipate in future text polls? You can sign up HERE.
Read our quick summaries of the following articles and click the links below.
Three Types of Burnout and How to Overcome Them
People don't burn out in the same way or for the same reasons. This article describes three kinds of burnout: overload, under-challenged, and neglect—and provides signs to watch out for and tips on how to overcome each type.
Overload burnout happens when highly dedicated individuals sacrifice their health and personal lives to achieve success, which can cause physical and mental exhaustion. They tend to cope by venting and taking on more work, which increases stress levels.
Under-challenged burnout occurs when individuals feel unchallenged and bored in their job, leading to a lack of motivation, cynicism, and lethargy. They cope with stress through avoidance mechanisms like distraction and thought suppression.
Neglect burnout is when individuals feel helpless and lack structure, direction, or guidance in their workplace, leading to feelings of incompetence, frustration, and uncertainty. Coping with learned helplessness, those with neglect burnout tend to become passive and stop trying when things do not turn out as expected.
One CEO's Story of Executive Burnout
An association CEO shares his personal experience with burnout and depression, despite loving his job and being successful. He turned to various resources to try and understand his feelings, but it wasn't until he returned to therapy that he realized he was suffering from burnout.
As a workaholic, he had neglected to take care of himself and had lost joy in other aspects of his life. He learned that self-care is essential for effective leadership and encourages other leaders to embark on a journey of reflection to find a healthy work-life-joy integration.
He suggests that leaders should share their challenges and weaknesses to inspire others to tackle their own struggles and notes that the world of work is changing, and constituents want genuine leaders who prioritize self-care and balance.
Seven Ways to Nurture Employee Well-Being
Despite many organizations prioritizing mental health, less than half of employees believe their employer cares about their well-being, and only four in 10 say their employer has actively communicated about mental and emotional health or made changes to support it.
Employers should develop a strategy to offer personalized support and promote education on leveraging tools and resources for mental and emotional well-being. This article offers seven recommendations, including promoting a culture of well-being, providing resources for stress management, and offering flexible work arrangements.
 Want to be the first to be notified about articles like this? You can learn more about Avenue M's texting poll service HERE.
Contributors: Sheri Jacobs, FASAE, CAE & Lisa Boylan
(Image: Adobe Stock)