Improving employee retention is crucial for associations, and meeting employees' needs and providing meaningful benefits can have a significant impact.
Many associations continue to experience significant staff turnover. According to a report from Gartner, U.S. employee annual turnover was predicted to be around 20 percent in 2022. It's hard to pinpoint exactly why because there are many factors contributing to it, including shifts in workplace preferences, changing expectations of a workforce facing global and domestic upheaval, and a reevaluation of the parameters of work so professional and personal priorities can peacefully coexist.
Basically, it's complicated but our panel of association executives and HR professionals have shared some solutions.
In a recent poll conducted by ASAE and Avenue M in late March, 35 percent shared that they experienced 11 to 20 percent in staff turnover in 2022, 21 percent had less than 5 percent turnover, 26 percent had 5 to 10 percent, 12 percent experienced 21 to 30 percent, and only 6 percent had higher than 30 percent turnover.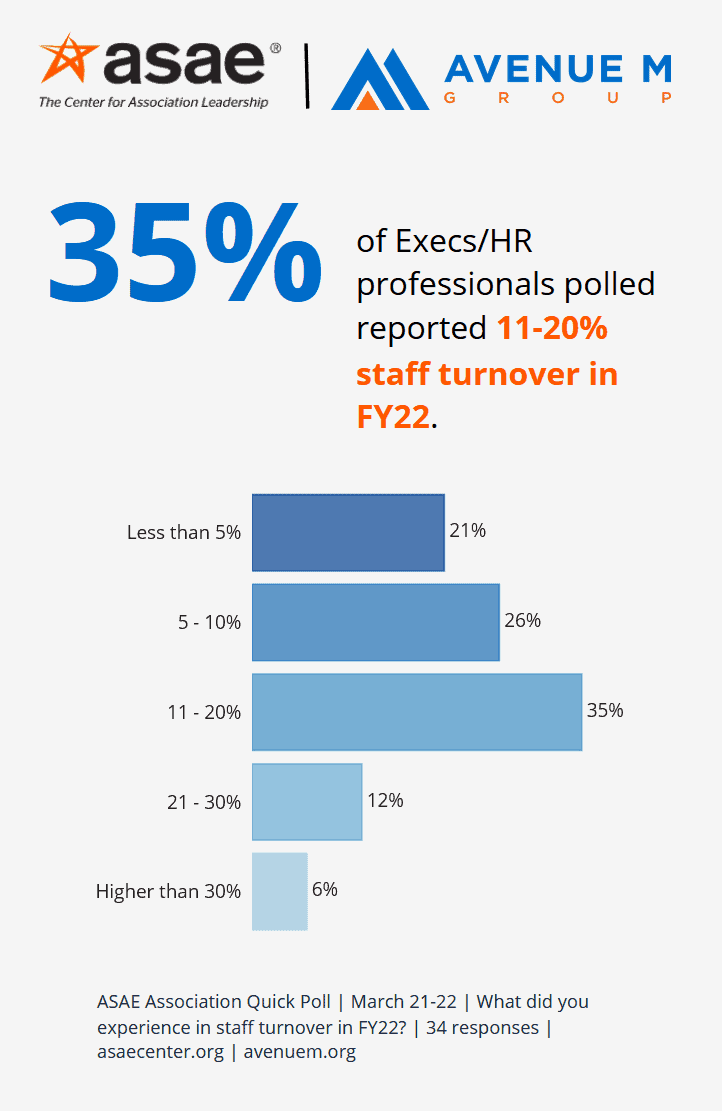 When asked what they were doing to improve staff retention, the responses varied. One CEO/executive, who experienced 11 to 20 percent turnover in 2022, shared, "We completed a compensation analysis, increased compensation accordingly, and allowed remote work."
"We have an increased focus on mental health, allow 100 percent remote work, and flexible work schedules," an HR professional, who reported less than 5 percent turnover, said.
"We are starting to work with managers on developing professional development plans and career paths for their employees," another HR panelist, who reported 5 to 10 percent turnover, shared. "We've also created a leadership institute and a management institute for emerging and advancing leaders."
Another CEO/executive, whose group experienced less than 5 percent turnover, said, "Have the right culture. Make sure people have a solid benefits plan."
One HR panelist, who reported higher than 30 percent turnover in 2022, said their group offered manager effectiveness training and health and wellness programs. They also adjusted salaries, conducted retention interviews, and balanced workloads.
These responses reflect that many associations are proactively responding to what employees are seeking: being heard, seen, appreciated, compensated–and receiving professional development opportunities.
Because when workers don't experience that kind of environment, trends like "quiet quitting" prevail. That's when burned out, underappreciated employees decide to dial it back to the bare minimum of their job duties–or leave an organization altogether–because their needs are not being met, or acknowledged.
In today's competitive job market, staff retention remains a pressing concern for association leaders across various industries. With the cost of replacing employees soaring, leaders are looking for innovative ways to retain their most valuable staff and maintain their organizations' success.
Want to partipate in future text polls? You can sign up HERE.
Read our quick summaries of the following articles and click the links below.
Increase Retention in The Workplace: 14 Effective Strategies
HR leaders and business owners share their best tips for increasing employee retention, including investing in managers and creating a culture of continuous learning and growth. Here are three strategies out of the 14 they recommend:
Humanize Your Employees. Employers must view their employees as whole humans, not just producers, and offer them what they need to feel valued.
Invest in Your Managers. Train frontline managers to coach and develop their team and build a compassionate culture of caring.
Follow the Platinum Rule. Treat others the way they want to be treated, focus on the needs of employees, and create a culture of respect and appreciation.
People + Strategy: Melissa Thompson on Attracting and Retaining Talent
The Great Resignation is on the mind of many association executives and HR leaders. The question looms: Is the increased level of turnover here to stay?
It's probably not going anywhere soon, according to Melissa Thompson, global head of talent acquisition at Ford Motor Company, who offers insights on making the workplace more meaningful and enjoyable in this Society for Human Resources Management podcast.
"I believe you should have fun at work," Thompson said.
Here are some of Thompson's topline recommendations.
Improve employees' on-the-job experiences by creating internal marketplaces. Why? Employees leave because it's often easier to be promoted externally than by staying within an organization.
Revamp the employee value proposition and clarify why employees should join an organization and stay. Culture and purpose are key. It's not only about how an organization makes money, but how it enhances people's lives.
Diversity recruiting must be authentic. Interviewing diverse candidates is only the start, it's also about measurable outcomes that show gaps in diversity in terms of ethnicity, gender, and accessibility.
It's Time to Reimagine Employee Retention
A report from Gartner found that 65 percent of workers are reconsidering work's role in their lives, but only a third are open to internal opportunities. Limited role awareness and weak manager support lead many to leave rather than develop, causing managers to become territorial and risk losing their top talent.
Here are some solutions to the problem:
Focus career conversations on progression, not promotion.
Create a culture of learning.
Provide opportunities for employees to progress into different roles.
 Want to be the first to be notified about articles like this? You can learn more about Avenue M's texting poll service HERE.
Contributors: Sheri Jacobs, FASAE, CAE & Lisa Boylan
(Image: Adobe Stock)