A recent survey by the American Society of Association Executives (ASAE) and Avenue M Group revealed that while almost half of associations don't plan to add workplace amenities to encourage collaboration and office return, a significant number already do or plan to.
Efforts to return to the office continue to evolve. To be sure, many organizations are opting for a hybrid model, and some are integrating workplace amenities that combine the benefits of working from home with the advantages of in-person collaboration and brainstorming.
However, there isn't a universal fix. Whether in-person, hybrid, or remote only, finding a way to incorporate the best of both worlds and meet the needs of everyone is ongoing, and associations are working through it.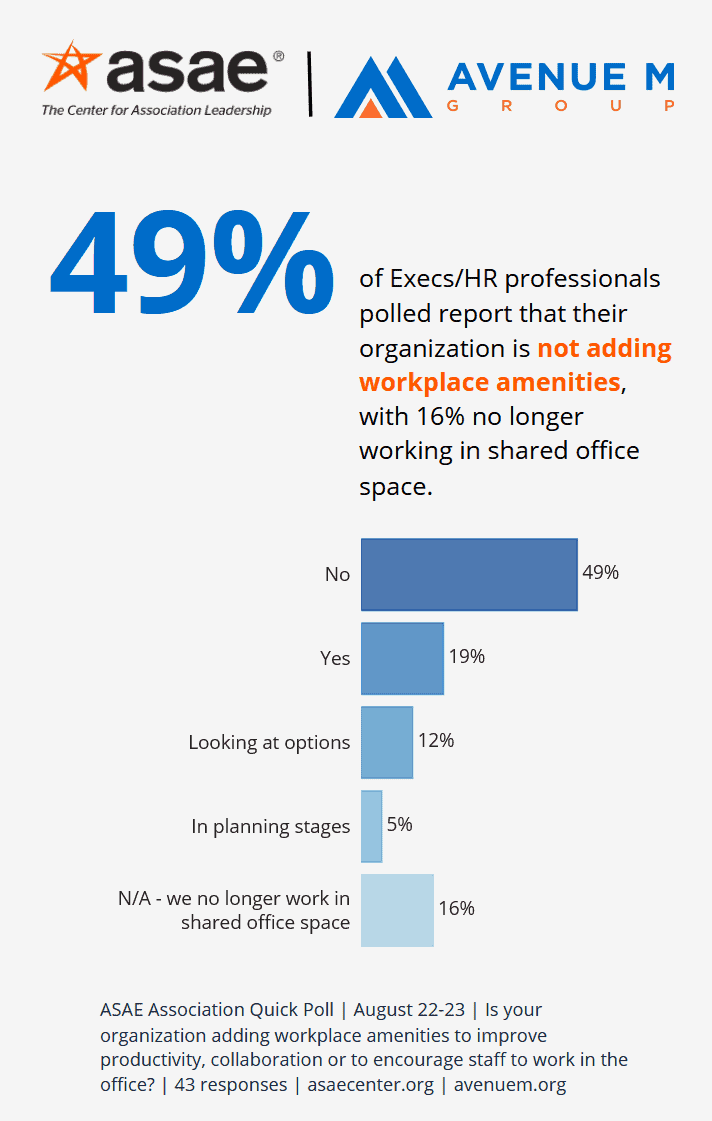 More than one-third (36 percent) of associations are looking at, planning to, or have implemented new workplace amenities in hopes of improving productivity, collaboration or to encourage staff to return to the office. Nearly half (49 percent) of associations, though, said they are not planning to add workplace amenities, according to a late-August ASAE and Avenue M Group text poll.
Sixteen percent of respondents are fully remote and no longer have a physical space. When asked what workplace amenities they are providing to improve productivity, collaboration, or encourage staff to return to the office, an HR executive whose organization is in the planning stages said they are aiming for a "modern office environment" with "cutting-edge technology for hybrid meetings, and effective convening and collaboration space."
Another HR leader said they are providing a "shuffleboard table and a bigger kitchen and lounge area." One panelist said, "We are looking to provide easier ways to collaborate with remote staff."
One HR executive, whose group is not planning on adding anything new, said, "We returned to in-office events when we went hybrid so that continues to encourage people to come in."
 Added Perks Panelists Shared:

Wellness room
Pet-friendly environment
Free snacks and beverages
Standing desks
More contemporary space with art and plants
Click HERE to participate in future ASAE and Avenue M text polls.
As workplaces continue to navigate hybrid models and employee preferences, the journey to find the right balance between in-person, hybrid, and remote endures, with associations actively adapting strategies and amenities to meet evolving needs.
For more insights on workplace amenities and revamped office spaces, read Avenue M's quick summaries of the following resources and click the links below.
Top Workplace Amenity Trends For 2023
Surveying employees across generations and industries, the 2023 Workplace Amenities Report conducted by SGA highlights trends like personal well-being, including amenities such as air purification systems and outdoor spaces.
Additionally, workers are interested in features like tech bars and versatile meeting areas, and they value perks like coffee stations and bicycle parking. There is also a strong sustainability trend, with workers seeking amenities like EV charging stations and bicycle facilities.
A Remodeled Workplace Where Staff Wants to Be
The American Institute of Architects (AIA) is revamping its headquarters to reflect modern work trends, emphasizing sustainability, fairness, and collaboration. The plan aims to create an inclusive workspace that caters to diverse work styles. That means fewer private offices and more shared spaces, managed through desk reservations.
While recognizing the value of face-to-face interaction, AIA also values flexible work arrangements. The renovation is expected to last two years. During that time, AIA's staff will primarily work remotely but meet periodically for collaboration, with partner organizations offering spaces to maintain connections.
Three Things Workers Now Want From the Office
New hybrid work policies are giving employees the flexibility to choose how they work. Employees are looking for a few essentials to make returning to the office more seamless after a lengthy remote-work period, as revealed in a Regenerative Workforce survey by JJL. Here are the top three amenities workers are looking for.
Relaxation spaces. Workers prioritize relaxation spaces in office settings, with 45 percent valuing them for improved wellbeing and sustainable performance. Offices should provide a comfortable home-like experience while fostering community and collaboration.
Healthy food options. Ranked second at 44 percent, healthy food services are crucial for flexible work, with quality options like sushi and snacks replacing traditional lunches. Creating inviting spaces for meals and meetings boosts productivity, job satisfaction, and employee retention.
Outdoor spaces. Before the pandemic, having plants in offices lowered stress and boosted productivity. Nature and outdoor spaces also bring happiness and job satisfaction. About 41 percent of workers value outdoor areas in a well-being-focused office, but only 25 percent currently have access.
 Want to be the first to be notified about articles like this? You can learn more about ASAE and Avenue M's texting poll service HERE.
Contributors: Sheri Jacobs, FASAE, CAE & Lisa Boylan
(Image: Sheri Jacobs, FASAE, CAE)