Addressing equity and retention, the majority of associations are stepping up salary increases this year.
Despite the current economic instability, associations needed to increase salaries to minimize employee turnover, ensure staff can maintain their standard of living, and attract top talent.
That doesn't mean it's been an easy call, which is why it's good to get some insights on navigating tough terrain. Fortunately, our panel of association executives and HR professionals share what's influencing their decision to increase base salaries–and the percentage range they are aiming for in FY2023.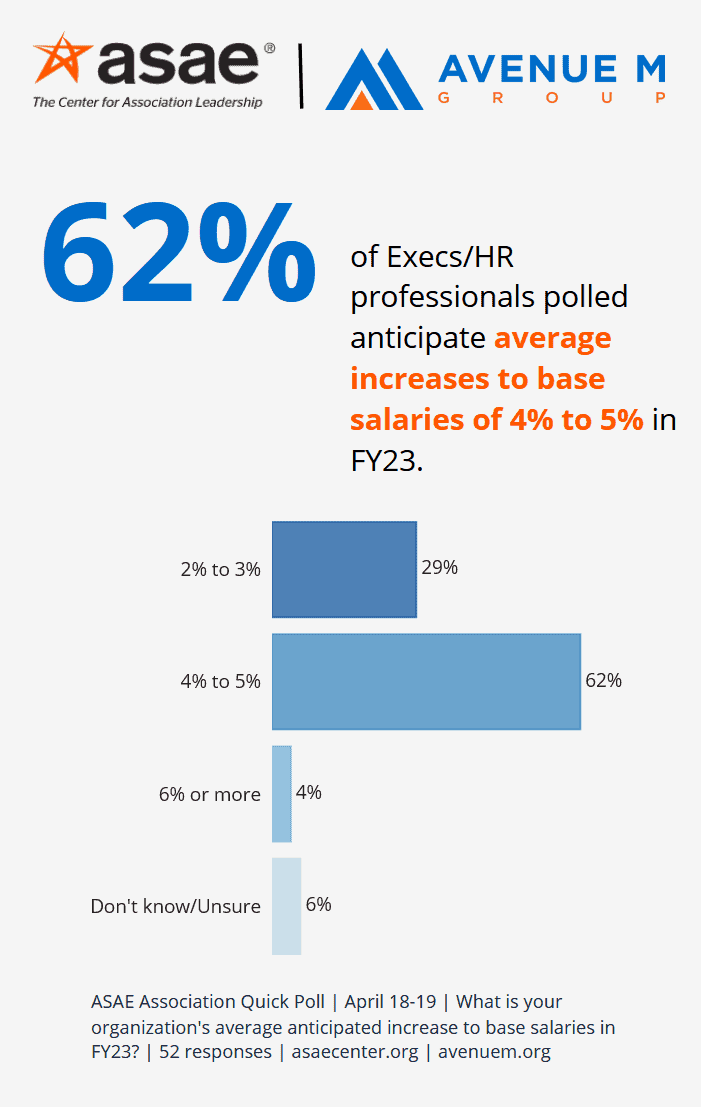 In a recent text poll conducted by ASAE and Avenue M in late April, a majority (62 percent) of CEOs and HR leaders shared that they plan to increase base salaries 4 to 5 percent in FY23. According to The Conference Board, organizations planned for 3.9 percent increase in 2022 and 2.6 percent in 2021.
Nearly three in ten respondents— 29 percent—plan on increasing pay by 2 to 3 percent, more in line with long term trends on increases. A small minority—four percent—plan to increase salaries by more than 6 percent.
When asked what is driving their decision more this year–financial constraints, inflation, retention/recruiting, or something else–one CEO, who plans a 4 to 5 percent increase, replied "all of the above."
Another executive, who also plans a 4 to 5 percent increase, said that retention and recruiting are what's motivating their increase. "We want to remain a competitive employer in the job market."
And one panelist, who plans a 6 percent or more increase, said, "Staying in line with the market and ensuring internal equity" are the main factors impacting their decision.
Overall, panelists pointed to retention, recruiting, and inflation as the main factors influencing their decision to increase base salaries.
In addition to prioritizing salary increases, associations are committed to reviewing salaries and benefits frequently so they can maintain their edge in retaining the best and brightest talent. Fifty-two percent of CEOs and HR leaders said they review salary ranges and benefits annually, according to another recent ASAE/Avenue M text poll.
Click HERE to participate in future polls.
For more insights on managing salary increases in the midst of rising inflation, read our quick summaries of the following resources and click the links below.
How to Handle Compensation During a Recession, From New Hires to Pay Raises
Fears about a possible recession mean that HR leaders must be prepared to handle any situation. But don't count on history to repeat itself. A recession might have a nominal impact on the labor market, but it likely will not mirror the 2008 downturn.
Here are some suggestions for navigating tricky times.
Regularly assess market compensation levels to make data-driven decisions.
Clearly communicate with both employees and leadership to effectively allocate compensation funds and keep the best talent in-house.
Highlight nonmonetary perks like benefits, mental health services, and organizational culture.
Association Salary Budgets Up in 2022
Associations have weathered an unstable couple of years financially, but ASAE's 2022 Compensation and Benefits Study reveals that organizations are allocating more money for salaries to keep up with rising inflation. It's not clear whether it's due to financial recovery, growth opportunities, Great Resignation concerns, or a combination of these factors.
Job performance remains the most common factor for salary bumps and merit increases are the most common kind of increase. And the number of associations who reported they will provide cost-of-living increases jumped 15 percent compared to 2022.
Tom McMullen on High Inflation and Compensation Strategy
We are currently living through a confluence of financial, global, and domestic uncertainty, but that doesn't necessarily mean it will last forever.
In this Society for Human Resources Management All Things Work podcast, Korn Ferry's Tom McMullin says organizations should be cautious setting base salary precedents during what could only be a temporary upheaval.
Instead, he notes organizations are getting more creative with solutions like reward, sign-on, retention, and referral bonuses. They are also offering benefits like professional development opportunities, pay variables to offset commuting costs, and a positive work environment.
Want to be the first to be notified about articles like this?
You can learn more about Avenue M's texting poll service HERE.
Ready to sign up? Click HERE.
Contributors: Sheri Jacobs, FASAE, CAE & Lisa Boylan
(Image: Adobe Stock)