Find out how often associations are reviewing salary ranges and benefits, and what strategies they're using to be transparent and take the mystery out of a traditionally opaque process.
Associations are facing stiff competition to attract and retain top talent in today's job market. To stay ahead of the game, many associations consider conducting regular reviews of salary and benefits essential. By identifying and addressing pay discrepancies and staying competitive, executives and HR professionals believe they can maintain their edge in retaining the best employees.
How often are associations reviewing salary ranges and benefits? Good question–and here are some answers.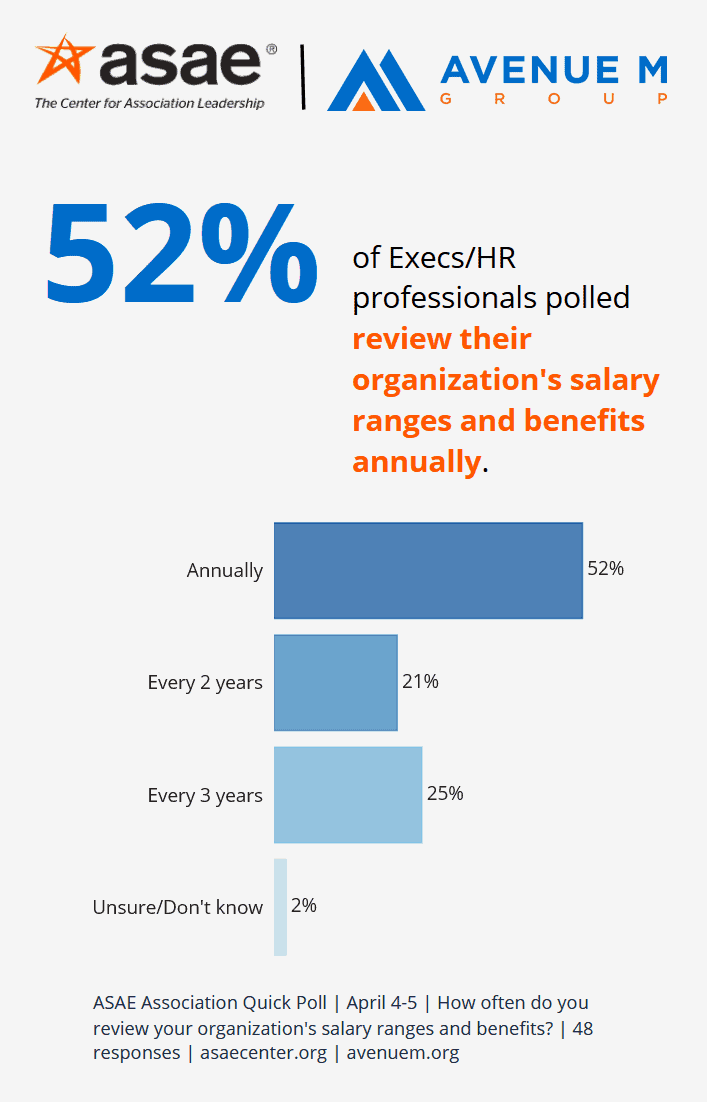 In a recent poll conducted by ASAE and Avenue M in early April, 52 percent of CEOs and HR leaders shared that they review salary ranges and benefits annually, 25 percent said every three years, 21 percent said every two years, and only 2 percent said they are unsure or don't know.
When asked what criteria or other information they use when reviewing their organization's salary ranges, panelist Dennis Sawyers, chief human resources officer at the American Society of Hematology (ASH), said the decision to review every three years is a "matter of best practices" communicated by ASH's compensation consultants.
"We apply a factor that allows us to shift our ranges even during the years when we are not engaged in the full market salary study, which allows us to keep pace with the market and avoid a need for wide-scale adjustments every three years," Sawyers said.
Transparency is key. "We're conveying to staff that the numbers we have in terms of salary data externally for each function within the organization, and then internally for our career ranges, is supported by expert advice from consultants who are looking at the market," Sawyers said. "It takes what was mysterious and makes it clear that there is a methodology to this."
To help staff better understand the process, the HR team clarified where the data was coming from, then walked them through all of the salary ranges for each career level, how they are defined, and the increased engagement and expertise that's required at higher career levels. This helps staff have a better, more concrete understanding of how they can move ahead.
"We talk in detail about ownership of your own career," Sawyers said.
Another HR executive, whose association conducts reviews every two years, uses a consultant to gather data and benchmark against other similar associations and then uses the average salary range among those associations.
They conducted full market research on each individual job, then created bands–grouping employees within a pay grade–and looked at each employee within those bands to make sure there was equity in terms of factors like gender and race.
The decision to conduct reviews every two years was a top priority. "I've set a goal internally to have our pay bands be on job descriptions by June 1, knowing that employees will see that," the HR panelist said. "Having it be transparent is something I wanted to make sure everyone was paid at the right rate before it went public, and that we were able to make internal adjustments if they were needed."
One HR professional, who said they review salary and benefits annually, shared, "We have internal salary bands based on position level." They also benchmark salaries based on market data, and during their budget process, they determine a standard increase (based on merit and the cost of living) and create additional increases for promotions.
"Anytime someone is promoted, changes positions, or takes on substantially more work, we also benchmark the market," they added.
Another HR panelist, who reviews salary and benefits annually, conducts a job analysis to make sure the position still matches the job description and then makes any necessary updates. They use market analysis based on three external verified sources and, if the market analysis shows a 10 percent or higher discrepancy, they make a recommendation to adjust wages. Finally, they review all the changes with the organization's CEO, COO, and CFO and add any adjustments to the following year's budget.
"We use market data for organizations like ours with similar headcounts and budgets," one HR executive shared, adding the position being matched must have more than a 50 percent content match for duties and responsibilities.
Of course, it's not all about salaries. Employee benefits can be just as important as pay for attracting and retaining good employees. For example, according to a Forbes Advisor survey, 40 percent of employers believe better benefits would keep employees from leaving their job.
One HR panelist said, "We've tried to add a lot more mental health into our benefits package." Their group also recently rolled out the Calm app for employees.
And today's benefits are not necessarily your parents' benefits. Over 30 percent of 18 to 41-year-olds are most concerned with having pet insurance available as a benefit, the Forbes survey showed. Notably, one HR panelist shared that they recently decided to make the case for pet bereavement days.
Click HERE to participate in future polls.
For more insights on salary and benefits reviews, read our quick summaries of the following articles and click the links below.
Keeping Pay Structures Current in a Volatile Market
In today's competitive talent market, pay levels are in a constant state of flux. To ensure smooth recruitment and retention, organizations must keep their salary structure current. Failing to do so can result in either outdated pay, which can harm hiring efforts, or excessive labor costs that can cripple a company.
To sidestep these dangers, employers must take a proactive approach by reviewing their pay structure more frequently, broadening their approach, and developing clear guidelines. This way, they can restructure specific jobs, use parallel pay structures, and manage compensation changes creatively and strategically.
Here are some tips to keep your pay structure current and relevant:
Review pay structures every other year to avoid antiquated pay and pay ranges.
Broaden the approach to pay structure reviews to unlock opportunities to reduce or reassign headcount, restructure certain jobs, and use parallel pay structures.
Develop clear guidelines for pay decisions and take a more strategic role in managing compensation changes.
The Case for Pay Transparency
It's time to get real about pay transparency. According to a LinkedIn survey, 91 percent of U.S. job seekers said they'd be more likely to apply if a job posting included a salary range. And 82 percent of respondents viewed companies more positively if they were transparent about pay.
So, if you want to attract top talent and keep your current workforce happy, it's time to reevaluate your salary practices. Make sure your ranges are based on reputable data, updated regularly—at least every 18 months—and fair to all employees.
Don't wait for staff to complain before you take action. Be transparent about pay and create a level playing field for all.
Employee Benefits In 2023: The Ultimate Guide
Employee benefits aren't just a nice add-on to a compensation package; they can make or break a job offer. According to a Society for Human Resource Management study, 90 percent of respondents consider healthcare and 83 percent consider flexible work and leave time to be crucial.
And the benefits don't stop there: Offering benefits like paid leave, healthcare, retirement, flexible hours, and wellness can boost productivity and engagement, as well as improve retention. In fact, 60 percent of employees said that benefits are a major factor in deciding whether to stay with their employer.
Maximize the impact of your employee benefits package with these tips:
Offer benefits your employees actually want.
Tailor benefits to meet your employees' needs.
Keep costs in check to avoid financial strain.
Communicate benefits clearly to your employees.
Stay compliant with the law.
Want to be the first to be notified about articles like this?
You can learn more about Avenue M's texting poll service HERE.
Ready to sign up? Click HERE.
Contributors: Sheri Jacobs, FASAE, CAE & Lisa Boylan
(Image: Adobe Stock)