A recent survey by the American Society of Association Executives (ASAE) and Avenue M Group found that most associations (72%) pay 100 percent toward continuing education (CE) for employees.
Fast-paced changes in business models and technology—including the elephant in the room: AI—mean organizations need to step up efforts to enhance the skills their workforce requires to thrive and grow.
A McKinsey Global Survey on future workforce needs found that 87 percent of executives said they were experiencing skill gaps in the workforce or expecting them within a few years. The report contends that the organizations that invest more in reskilling their workforces will emerge stronger post-pandemic.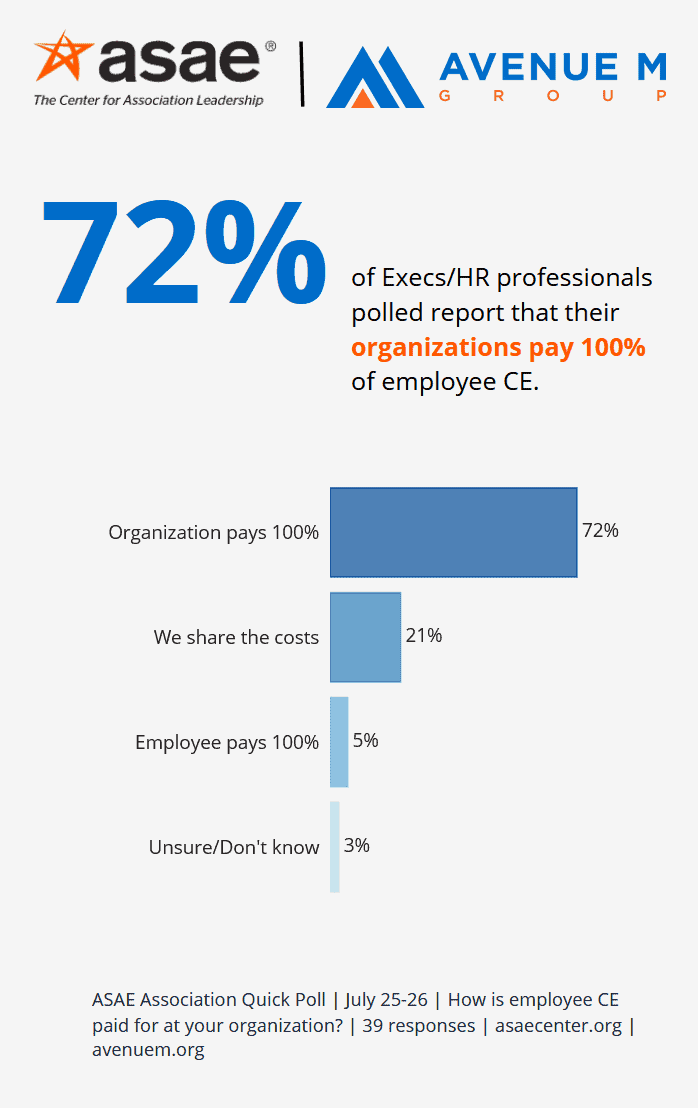 Associations are way ahead of the curve. A majority (72 percent) of HR executives and CEOs said their organizations pay 100 percent for continuing education (CE) for employees. Twenty-one percent said they share the costs with employees, and a minority—only 5 percent—said employees pay 100 percent, while 3 percent said they were unsure or didn't know, according to a late-July ASAE and Avenue M Group text poll.
When asked if all employees are eligible, one CEO, whose association contributes 100 percent toward staff CE, said, "Our CE policy provides funds for all employees to choose and direct personal development education. This includes a wide variety of courses and activities. In addition, the association often recommends and funds additional education to build specific job skills."
Another CEO, whose group shares the cost with employees, said, "We pay each employee up to $1,500 per year to support education," explaining that anything beyond that staff needs to pay out of pocket, so in some cases the group does pay 100 percent, but it depends on each situation. "However, I do encourage everyone to invest in their CE each year," the leader said.
Our panelists also shared other eligibility requirements, such as whether the CE was relevant to their position level and within their scope of work, or if it was offered after the employee completed an introductory employment period.
Offering CE to staff is a mutually beneficial approach. It empowers employees to enhance their skills and knowledge, which means a more effective and agile workforce that's better equipped to tackle challenges in an ever-changing work environment.
Want to partipate in future text polls? You can sign up HERE.
For more insights on the benefits of providing continuing education and professional development opportunities, read Avenue M's quick summaries of the following resources and click the links below.
Top 4 Reasons to Embrace Professional Development
Professional development is not just for license renewals; it can boost productivity, loyalty, and contentment among employees. It's essential for employers to support continuous education for all staff, given the potential consequences of neglecting it.
Some top reasons to encourage professional development:
Makes employees happier and more loyal
Helps them adapt more easily to changing and evolving business needs
Improves succession planning by investing in talent development
Empowers employees through professional growth, leading to increased creativity, productivity, and teamwork while reducing stress and absenteeism
To Emerge Stronger From The COVID-19 Crisis, Companies Should Start Reskilling Their Workforces Now
Before the pandemic, technology changes and automation were already disrupting jobs and creating skill gaps. Now, organizations need to adapt to rapidly changing conditions and reskill workers for new roles. To tackle this challenge, leaders should focus on talent development, invest in learning budgets, and follow essential steps for business recovery. Here are three examples.
Protect learning budgets (or regret it later). Keep your training budgets intact. Invest in skill-building to adapt to the current crisis and boost resilience. Focus on digital accessibility and leverage external learning resources.
Act like a small company to have a big impact. Reskilling programs at smaller companies are more successful than larger ones because of their agility and clearer skill awareness, a global survey found. Larger organizations may find it harder to be as agile in reskilling.
Start now, test rapidly, and iterate. Successful reskilling programs help companies address skill gaps caused by disruptions and implement new strategies. Even unsuccessful programs prepare organizations for future challenges, highlighting the importance of starting rather than waiting.
Why Employees Need to Be Sold on Professional Development
Employees may need to be convinced of the benefits of professional development, and some organizations have successfully implemented concrete initiatives to support it. Here are some effective approaches.
Create a supportive work environment by offering leadership coaching, resume-enhancement training, and soliciting employee interests.
Engage younger employees through targeted communication, regular feedback, structured mentorship, and recognition for hard work, which can motivate them to improve and embrace professional development.
Communicating the value of professional growth is essential for organizations to encourage their staff to take advantage of these opportunities.
 Want to be the first to be notified about articles like this? You can learn more about Avenue M's texting poll service HERE.
Contributors: Sheri Jacobs, FASAE, CAE & Lisa Boylan
(Image: Adobe Stock)