Only 8% of association CEOs/Executives say their organization plans to use ChatGPT to engage with members in 2023.
There's a new chatbot in town–ChatGPT–and it's creating a tsunami-level of interest largely because it makes previous iterations of chatbots look like clunky artifacts from a bygone era, which is not so bygone.
ChatGPT was only launched by OpenAI in November, and it caught on fast. One week after its debut, it garnered more than a million users–and has a high-profile backer, Microsoft, which recently confirmed it is a long-term, multibillion-dollar investor.
Right out of the gate, ChatGPT's potential for associations is impressive. For starters, unlike traditional chatbots–which are restricted to providing answers within prescribed rules and keywords–ChatGPT uses artificial intelligence to answer complex questions and generate fluid responses, like a real human conversation.
"It can do a lot in terms of customer service for associations," said Willis Turner, president of Old Clayburn, an association management company, and author of a new book, The Power of ChatGPT. For example, members could potentially cancel, renew, or upgrade their membership, or register for an event.
"There are so many different things ChatGPT can do for us using technology so association staff could spend more time in high touch areas where members need them," Turner said.
Sounds good, but what do associations think of this new tool?
In a recent poll conducted by Avenue M in early February with 24 association CEOs/Executives, 50% of association CEOs/Executives said they are unsure or don't know if their organization plans to use ChatGPT to engage with members in 2023, 42% said they will not use ChatGPT, and only 8% said they plan to use it.
When asked whether ChatGPT will disrupt [impact] the association space in a negative or positive way, three CEOs/Executives said they think ChatGPT will be positive, with one stating, "More AI will help us respond faster to member questions."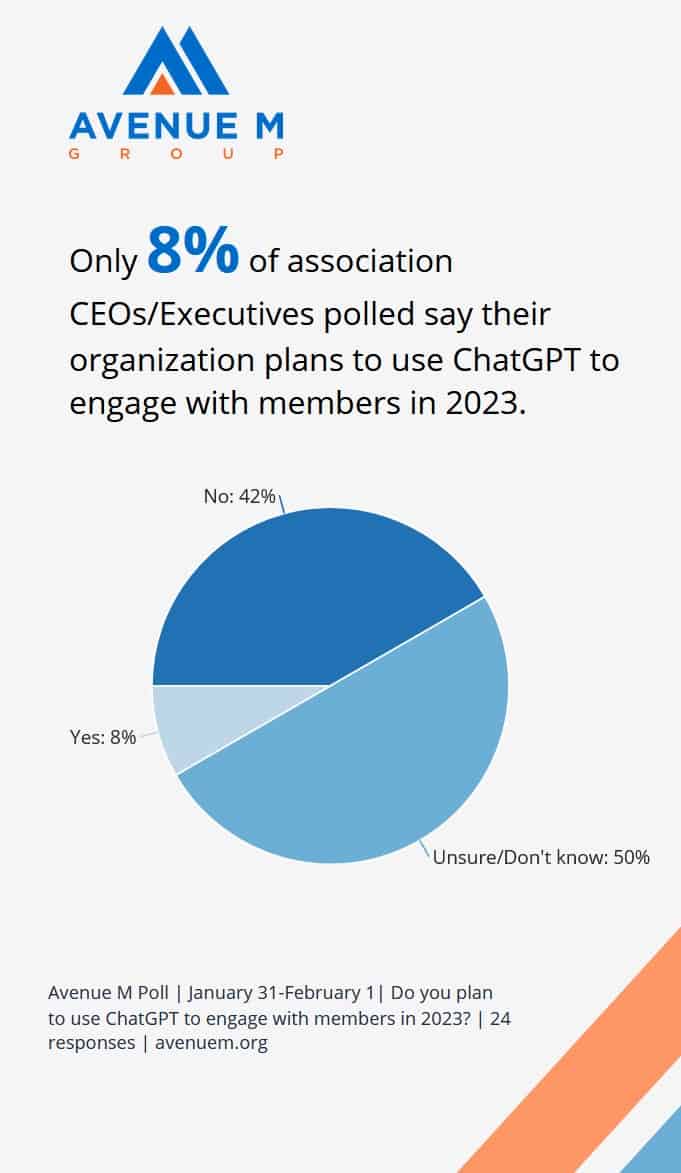 If associations are reticent to use ChatGPT, Turner said they should at least start investigating it. "It's not going to replace people," he said. "But people who are using AI to augment their skills are going to replace those that don't."
ChatGPT can also help with time-consuming tasks like content creation, blogging, press releases, and more. "I've used it to reply to emails where somebody's asking me to explain a complex problem or situation," said Ben Martin, CAE, innovation product owner at Triangle MLS. Martin said he knows he could write the email himself over the course of 30 minutes, but he has found that if he prompts ChatGPT, it will give him 75 percent of the answer he wants.
"I've learned that I actually make a better editor than I do a writer," he said. "I see ChatGPT as an antidote for writer's block."
Click HERE to participate in future polls.
Here's a quick look at ways associations could benefit from ChatGPT:
Keep it real. ChatGPT's more intuitive language capabilities allow it to deliver customized responses–based on the specific concerns of members–that mimic an actual human conversation.
Cost effective. Its ability to manage redundant or routine inquiries could save associations money by decreasing–or eliminating–staff time spent responding to them.
Always there. ChatGPT could improve accessibility and convenience by providing quick answers to member inquiries around the clock, seven days a week.
Better engaged. By providing timely, relevant, and informative answers to member questions and concerns, ChatGPT could boost member engagement.
Meet demand. Handling high volumes of inquiries simultaneously could make ChatGPT a scalable solution for associations with large memberships.
The genie's definitely out of the bottle, but that doesn't mean it's time to throw caution to the wind. For instance, the tool is so popular that the OpenAI website is often overloaded and asks users to come back later.
OpenAI is also intentionally putting the tool out there without many guardrails, hoping to crowdsource feedback that will help address glitches. So, while it's free (for now), it's not dependably accessible, and it's also not entirely tested and vetted, by design.
However, its possibilities are seemingly limitless–and intriguing. While ChatGPT has a lot of potential, the implementation of new technology can sometimes be disruptive for associations and might require significant changes to existing processes and systems.
ChatGPT's impact will depend on how it's integrated and used. If used effectively, it can be a catalyst for a new, more streamlined, and effective way for associations to do business.
Time will tell.
Want to be the first to be notified about articles like this?
You can learn more about Avenue M's texting poll service HERE. Ready to sign up? Click HERE.
Contributor: Lisa Boylan
(Image: Adobe Stock)