Avenue M Poll reveals a sense of urgency among association CEOs and executives for increased growth, flexibility, and engagement choices
An association's membership dues structure, akin to a building's foundation, should be strategically designed as a part of the organization's overarching mission to effectively deliver valuable services. Membership dues can also be seen as a strategic lever for fostering inclusivity and opening up opportunities across communities or industries, all while ensuring the financial steadiness of an organization.
Even so, an August 2022 Avenue M text poll on membership dues revealed that 76 percent of association CEOs and executives said their membership dues structure needed some form of updating, while only 14 percent said it was perfect as is.
Fast forward to one year later and the situation has not improved, in fact, it's declined. An early-August Avenue M text poll shows that the majority of associations—86 percent—say their membership dues structure needs some retooling, while only 11 percent say it's perfect as is.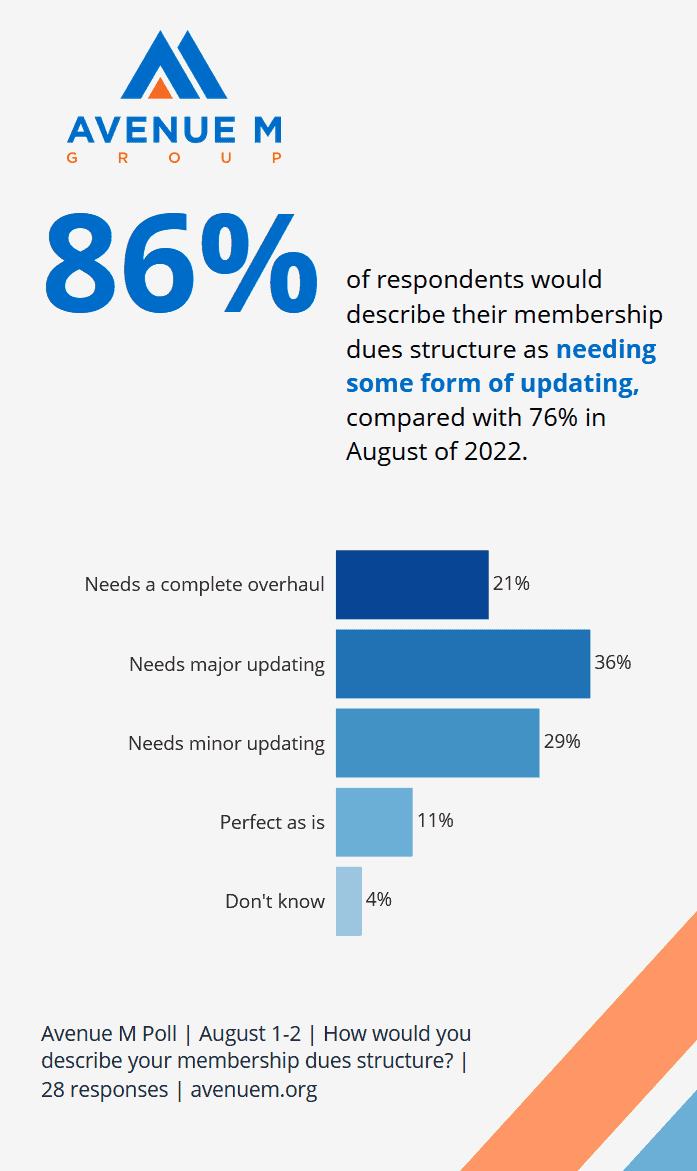 When asked what needs to be examined to initiate change—e.g., complexity, flexibility, growth opportunities, accessibility—one CEO panelist said, "All of the above!"
Another executive said, "Dues haven't been increased in 27 years and we need a better option for a company with multiple locations." And one CEO said their existing 95-year-old structure—when considering both national and separately-set chapter dues together—is often inconsistent with the value members expect to receive.
Overall, panelists listed these key areas to focus on for improvement: increased growth, tailoring relevance to different age groups, facilitating engagement on members' terms, implementing tiered options for varying global economies, and enhancing overall flexibility and engagement choices within the organization's structure.
Build a Better Dues Structure

Avenue M President & CEO Sheri Jacobs, FASAE, CAE, will be speaking on this topic during her session "Is it Time to Consider a New Dues Structure?" at ASAE: The Center for Association Leadership's Annual Meeting in Atlanta on Monday, August 7, at 10 a.m. She will share the basics of strategic pricing, ways to optimize the member experience, and how to determine the actual value of what you are delivering.
Click HERE to participate in future polls.
Associations know they need to change, but taking the leap is not always easy. That's where a risk-reward analysis comes in. For example, consider the risk of offering flexible payment options as opposed to doing nothing. Keep in mind the potential gain versus the potential loss. After all, a well-crafted dues structure enables an association to efficiently fulfill its mission and effectively cater to all of its members' needs.
For more ideas about updating membership dues structures, read Avenue M's quick summaries of the following resources and click the links below.
Four Steps to Creating Irresistible Member Value
To be irresistible to members, associations must meet unique needs and leverage their strengths. By addressing unmet needs in distinctive ways, they will stand out and attract members.
For example, a medical association tripled its growth by focusing on doctors' interests, and an engineering society launched a successful new business by providing collaborative spaces for industry leaders.
Bottom line: Irresistible member value comes from meeting specific needs in new and unexpected ways.
Membership Pro Tip: Better Buy-In to a Dues Overhaul
The National Cooperative Business Association (NCBA) revamped its dues structure but faced a glitch during the rollout without audience testing.
The upshot? NCBA realized the importance of member buy-in and came to understand board members' preference for offering feedback on the final product rather than being heavily involved in the co-creation process.
How Small Tweaks to Your Membership Structure Can Yield Big Results
The Ohio Association for Career and Technical Education (Ohio CTE) faced low teacher membership despite having teacher-focused benefits. They fixed it by renaming categories and introducing organizational membership, doubling their members to 6,000.
Simplifying the process and reaching out to school superintendents helped increase revenue without raising dues. It turned into a definite win-win situation.
 Want to be the first to be notified about articles like this? You can learn more about Avenue M's texting poll service HERE.
Contributors: Sheri Jacobs, FASAE, CAE & Lisa Boylan
Image: Adobe Stock