Only 14% of association CEOs/Executives report their organization's membership model is perfect as is.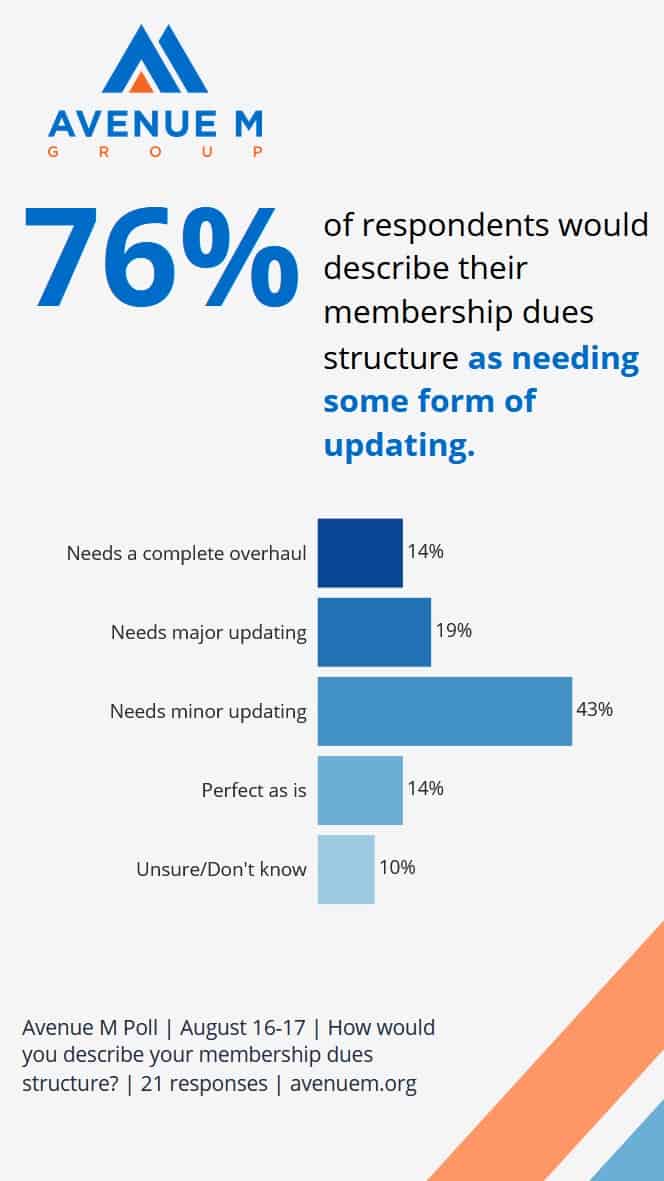 In a quick poll conducted by Avenue M in mid-August 2022 with 21 CEO/Association Executives, one in three (33%) indicated their association's dues structure needs either a complete overhaul or major updating. Forty-three percent stated their model needs minor updating and only 14% said it is perfect as is. Even before the pandemic, many associations were beginning to realize that adapting to the needs of members could mean implementing a new membership model. The pandemic has only accelerated that need for some associations. (Click HERE to participate in future polls.)
Developing a new membership model is no easy task, but staying the course has its own risks, especially now during the pandemic. Drawing from Avenue M's expertise with membership modeling, below are four key recommendations your association should consider when undertaking this endeavor.
Start with your value proposition. Switching to a new membership model is a great way to improve retention and growth. Still, even a great model alone will not increase the tangible and intangible value your membership provides. Without membership value, a new membership model cannot succeed. When considering expanding or creating new products, programs, or services, begin by answering these ten key questions.
Focus on retention. While expanding to new markets and maximizing member growth are often the impetus for a new membership model, retention of current members should not take a back seat, particularly in light of COVID-19's impact on many industries. With a possible recession on the horizon and the potential for tightening budgets, members who drop membership now may be less likely to return. Consider how a new membership model with more flexible dues payment options could help you keep the members you have.
Know your total addressable market. If one of your primary goals of a new membership model is growth, then it is crucial to understand your current market share and total addressable market. A common mistake some associations make when creating a new product or membership model is overestimating their market, assuming that the entire universe of their profession will want membership when that may not be true. Consider how the size of your market may change in the future.
Know the competitive landscape. Today, members have a variety of options for obtaining education, networking, staying up to date, and advancing their careers.
The Risk of Maintaining Status Quo
While offering more flexible payment options might sound like a huge risk, don't forget to assess the risk of doing nothing. We all have a cognitive bias in which we express a preference for leaving things as they are over any type of change simply because we are focusing on what we might lose rather than what we might gain. Of course, there is uncertainty that comes with any change; however, it is important to recognize our own bias and keep this question in mind: is there a greater risk associated with maintaining status quo?
Taking the Leap
Before determining whether or not your association is ready for a change to its membership dues strategy, first review a variety of scenarios such as: (a) doing nothing (i.e., maintaining status quo), (b) making minor modifications or adjustments to your membership dues and renewal program, or (c) significantly increasing the number of options to allow members to maintain their membership. Be sure to consider both your key metrics of success as well as the long-term financial implications of making a change. Once you've completed your scenario planning, collect input or feedback from both rank-and-file members as well as leadership. This can be done through a membership study and interviews or focus groups. Next, conduct the financial modeling to determine a worst-case, most likely case, and best-case scenario. Avenue M uses the research study and feedback combined with a review of past behavior and engagement to forecast each scenario.
After you've come up with a solution, don't be afraid to modify it along the way. You shouldn't wait too long to adjust or make a course correction if you choose the wrong course. Always be prepared to make changes as you move forward with the approach you feel best fits your organization.
Want to be the first to be notified about articles like this?
You can learn more about Avenue M's new texting poll service HERE. Ready to sign up? Click HERE.
Contributors:
Sheri Jacobs, FASAE, CAE, President & CEO
Matthew Cavers, Senior Director, Research and Consulting
Emily Thomas, M.Phil., Senior Director, Research and Consulting
(Image: Adobe Stock)