Associations leverage webinars to engage members, but the demand fluctuates for some as they navigate the post-pandemic landscape.
In the wake of the COVID-19 pandemic, while in-person events were canceled or moved to virtual platforms, many associations were faced with the challenge of finding alternative ways to engage their members and provide valuable content. One viable solution that emerged was webinars, which offered a flexible and interactive format that allowed associations to deliver content, foster member engagement, and maintain a sense of community.
Intrigued by the evolving landscape three years after the pandemic's inception, Avenue M sought to delve deeper into the impact of webinars on content delivery and member engagement.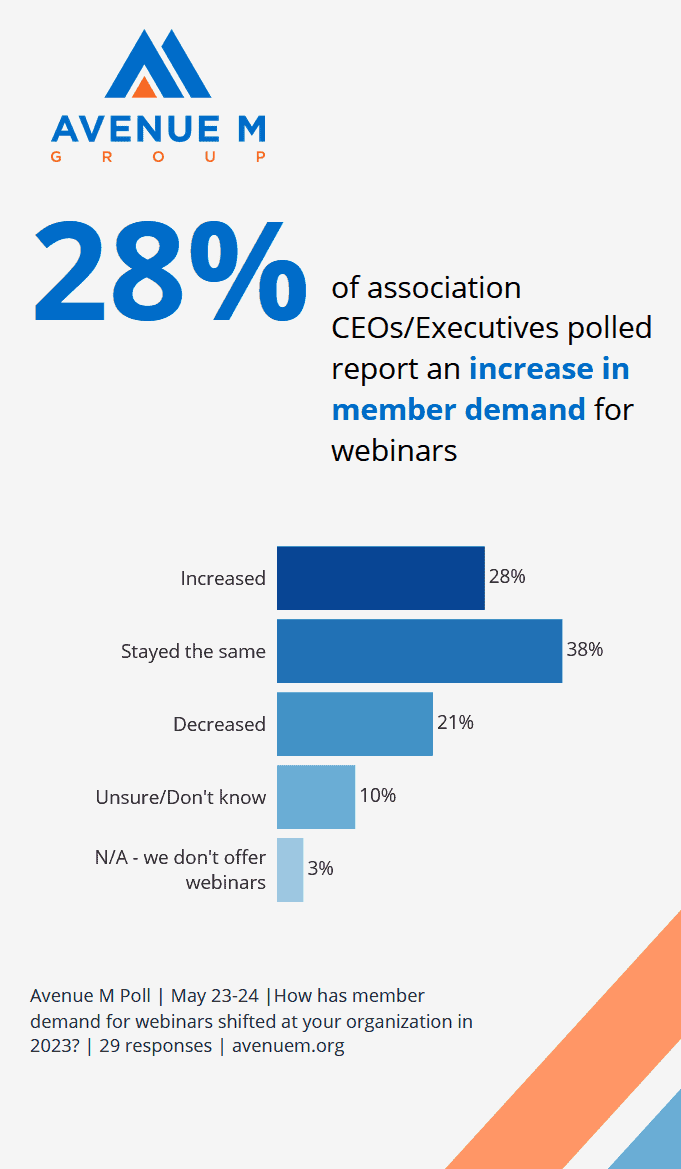 According to a late-May text poll conducted by Avenue M, 28 percent of associations have experienced an increase in member demand for webinars so far in 2023, while 38 percent said it has remained the same. Twenty-one percent said the demand for webinars in 2023 has decreased, while 10 percent were unsure and 3 percent indicated their organization doesn't offer webinars.
Avenue M panelists shared some insights as to why they believe the demand for webinars in 2023 has shifted in the way that it has at their organization. Miriam Wolk, CAE, Chief Membership Officer of the International Fresh Produce Association, indicated the demand has stayed the same but shared some of the advantages of webinars, stating, "Members realized this was a great way to get content in addition to attending in-person events. By offering webinars, it allows us to deliver value regularly throughout the year." Webinars also present a sponsorship opportunity, providing a revenue benefit for associations.
With the pandemic forcing associations to adapt quickly, webinars offered a practical solution. Pierre Désy, CEO of the Society of Gynecologic Oncology (SGO) and the Foundation for Women's Cancer, whose organization is experiencing an increase in demand noted that webinars allowed for bite-sized education, which was particularly valuable given members' limited time and competing priorities.
Associations found that webinars expanded their reach, overcoming geographical barriers and allowing attendees to join from the comfort of their homes or offices. This flexibility increased accessibility and participation rates.
While most organizations are experiencing an increase or a stabilization of demand for webinars, some are starting to see a decline. And that's okay. What's more important than following a trend is listening and responding to the needs of your members and adjusting your strategy based on what you hear. For example, one association executive experiencing a decline in demand for webinars shared that their members have been too busy and are just trying to stay afloat.
One advantage of webinars is their ability to facilitate interaction between presenters and participants. Attendees can engage with speakers and fellow participants through features like live Q&A sessions, polls, and chat functions. This interactive element fosters a sense of community and provides a platform for knowledge sharing, professional development, and a unique opportunity for networking and engaging with industry experts. However, if your members are experiencing Zoom burnout or don't want to spend any more time online, consider ways to deliver similar experiences and benefits at your in-person events.
Webinars have emerged as a powerful tool for associations to adapt and thrive in a challenging landscape by providing consistent value throughout the year, complementing in-person events, and expanding their audience reach. Moreover, the ability to record and archive webinars allows for on-demand access, extending the lifespan of valuable content. Regardless of your association's use of webinars, ongoing engagement and expanding the life of your content should be a key part of your strategy.
Want to partipate in future text polls? You can sign up HERE.
For more insights on the advantages of webinars, read Avenue M's quick summaries of the following resources and click the links below.
Build a Better Pricing Strategy Around Your Webinar Offerings
Prior to the pandemic, many associations offered members free admission to their webinars, but when the pandemic shut down in-person meetings, organizations had to deliver more education and content while creating a sustainable business model. In this article, Jeff Cobb, Tagoras managing director advocates for developing a pricing strategy for an organization's webinars. Some key points he makes include:
Find ways to monetize webinars as a source of revenue recovery from the economic impact of COVID-19.
Survey data reveals that organizations can adopt a mixed approach to webinar pricing, combining free webinars, fee-based webinars, and sponsored webinars strategically.
Differentiating between content and branding is crucial for determining whether a webinar should be charged for or offered for free.
Content primarily focused on information and content marketing can be offered for free, but consider charging for unique or skill-building content.
Align webinar pricing with your organization's overall portfolio of educational content and events, ensuring consistency in value delivery to members. Group registration and conversation guides can enhance the webinar experience and foster participant engagement.
Report: In-Person Meetings Are Back, But Challenges Remain
After enduring the challenges of COVID-19, in-person conferences and events have made a remarkable recovery. However, a recent study reveals that the revival of in-person gatherings has fallen short of expectations. Some other findings the study revealed include:
Attendee priorities, economic recovery, and staffing issues have made it difficult for some organizations to justify the expense and time commitment of in-person events.
Associations are cautious about in-person meetings and are exploring virtual and hybrid options until they are confident their offerings will attract attendees and exhibitors.
While in-person meetings received higher satisfaction ratings, offering different meeting formats allows for the inclusion of international attendees, young professionals, and first-time participants. The trend of fast-tracking younger leaders can influence future conferences, with a focus on diverse perspectives and topics.
Contributors: Sheri Jacobs, FASAE, CAE & Taryn Damolaris
(Image: Adobe Stock)
 Want to be the first to be notified about articles like this? You can learn more about Avenue M's texting poll service HERE.