Although social media may not be a fit for everyone, association executives should consider its returns. Establishing a professional presence can be advantageous in multiple ways, and the process doesn't have to be intimidating or time-consuming.
Social media is an integral part of many people's personal lives, but not always professionally beyond their LinkedIn profile, which could be a missed opportunity. An active presence on social media allows association leaders to increase their visibility, engage with members, and promote their organization's initiatives and values.
However, some executives might be reluctant to put themselves out there because they're concerned about their privacy, online criticism, harassment, or other factors like a lack of familiarity with social media platforms, fear of potential legal repercussions, or risks to their reputation.
Whatever their reasons for posting on social media frequently, intermittently–or not at all–it's clear that the posting habits of association leaders encompass a wide range of approaches and motivations.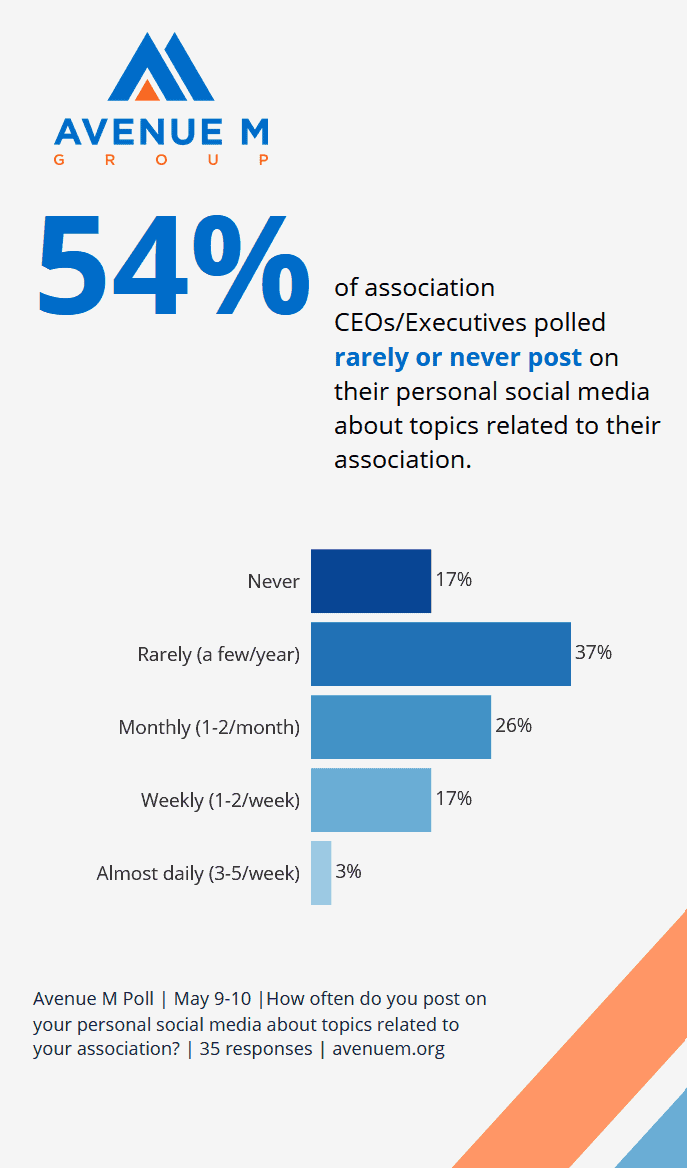 A recent text poll conducted by Avenue M in mid-May on how often CEOs and senior executives post on their personal social media about topics related to their association revealed that 37 percent of leaders rarely post on social media (a few times a year), 26 percent post monthly, 17 percent post weekly (one to two times a week), 3 percent post almost daily (three to five times a week), and 17 percent never post.
Gary LaBranche, FASAE, CAE, CEO of the Risk Management Society, posts weekly and said, "RIMS has more than 200,000 social media followers, mostly on LinkedIn and Facebook. Many are very active, and many have connected with me on LinkedIn and Facebook. Most of my LinkedIn posts relate to RIMS news and events, but I also like and comment on risk industry news, reports, etc. I'm also very active in commenting and sharing relevant posts from DEI allies."
Another CEO, who posts weekly, said, "Our community is very active on LinkedIn, and I often use my personal account to post or share news about upcoming events, new certificants, and to congratulate community members on accomplishments." Another panelist said that while they never post about their association on Instagram, they often do on LinkedIn about "content related to leadership, management, job openings, association or industry events, and opportunities."
Topics our panelists are posting about on social media.

Organizational wins, e.g., a successful annual meeting or policy effort
Member professional accomplishments
Member engagement
Industry trends
Association resources
Legislative and regulatory activity
Event promotion, e.g., upcoming conferences and annual meeting photos
Certification opportunities
Milestone celebrations
Networking Potential
The benefits of posting on social media come from using the platform as a way to connect and engage–not just promote or praise your association.
"People are going to see right through it if all you ever post is the rah-rah," said Christina Lewellen, CAE, executive director of the Association of Tech Leaders in Independent Schools. "It's part of my job. I want my association to be well known and I want it to be successful. Part of that is making sure I'm following what our members are doing and what other associations are doing and interacting with them on social media."
The platforms are also a good way to stay connected to up-and-coming future leaders. "Social media is a great place to go and keep your finger on the pulse of what your members are doing–and on the staff you aspire to hire," Lewellen said. "Especially on LinkedIn, if you pay attention to candidates of all backgrounds and all experience levels, you start learning what the next generation of leaders is looking for and what they're not getting in their current jobs."
It can also open up CEOs to their members. "It's important for CEOs to recognize that you can no longer hide behind the ivory tower gates of not being accessible to members and others that might be part of the profession," said Shawn Boynes, FASAE, CAE, CEO of the American Counseling Association. "If you lead, you should lead transparently and social media is a good way to do that as long as it's done in a thoughtful and strategic way so that it benefits not only the CEO but the organization."
The good news is, having a social media presence does not have to be time-consuming or a heavy lift. "You don't have to post every day," Boynes said. "I try to manage it so it doesn't become overwhelming. On LinkedIn, I may post two or three times a month and I'm very careful about what I post, but it's a way for me to maintain my presence."
Lewellen posts when she has downtime, say in the minutes before her next meeting or before she's about to board a plane. "I do not sit down and dedicate a certain amount of time or a certain number of posts per week," she said. "You do have to make it a healthy habit." And that means not checking it first thing in the morning or obsessing over it. "It's really about being the face of the organization," Lewellen said.
Click HERE to participate in future polls.
For more insights on strategies for effectively using social media, read our quick summaries of the following resources and click the links below.
Why Executives Need To Be On Social Media: Approaches For Business Leaders
Social media is a valuable tool for leaders to stay connected and break free from the sometimes limited information provided by staff. A Pew Research Center survey found that 72 percent of Americans use social media, meaning it offers a broad audience reach.
And 82 percent of employees believe it's important for leaders to communicate their organization's vision and values on social media, according to 2022 research from Brunswick. Overall, social media is a way for executives to learn, establish their voice, and engage with others.
How Association Executives Can Win With Social Media Today
This article offers ways leaders can use social media as a tool to become a trusted resource and thought leader in their industry.
Some strategy ideas include sharing organizational news, industry insights, crisis management, and social issues with personal insights. Engaging with audiences by answering questions, replying to comments, and reacting to other posts is also important. It also gives helpful insights into the pros and cons of different social media platforms
The goal is to build a community with authentic content that is transparent, consistent, and takes a stance on social issues. The object is to focus on building a loyal following, without obsessing over follower counts.
Contributors: Sheri Jacobs, FASAE, CAE & Lisa Boylan
(Image: Adobe Stock)
 Want to be the first to be notified about articles like this? You can learn more about Avenue M's texting poll service HERE.