Experts weigh in on what they're doing to refresh their governance structure to achieve better decision-making, increased member engagement, and improved organizational success.
An effective governance structure doesn't just happen, it is carefully conceived to provide the vision and direction necessary to ensure an association is on the right path–and stays on it.
However, increasing calls for transparency, accountability, diversity, and evolving legal requirements are among many reasons associations are reevaluating their governance structures to adapt to the changing needs of their stakeholders, redirect unhealthy cycles, and ensure their members' priorities are being met.
The good news is, a majority of associations report their governance structures only need minor adjustments. Our panelists share what they are doing to revamp them.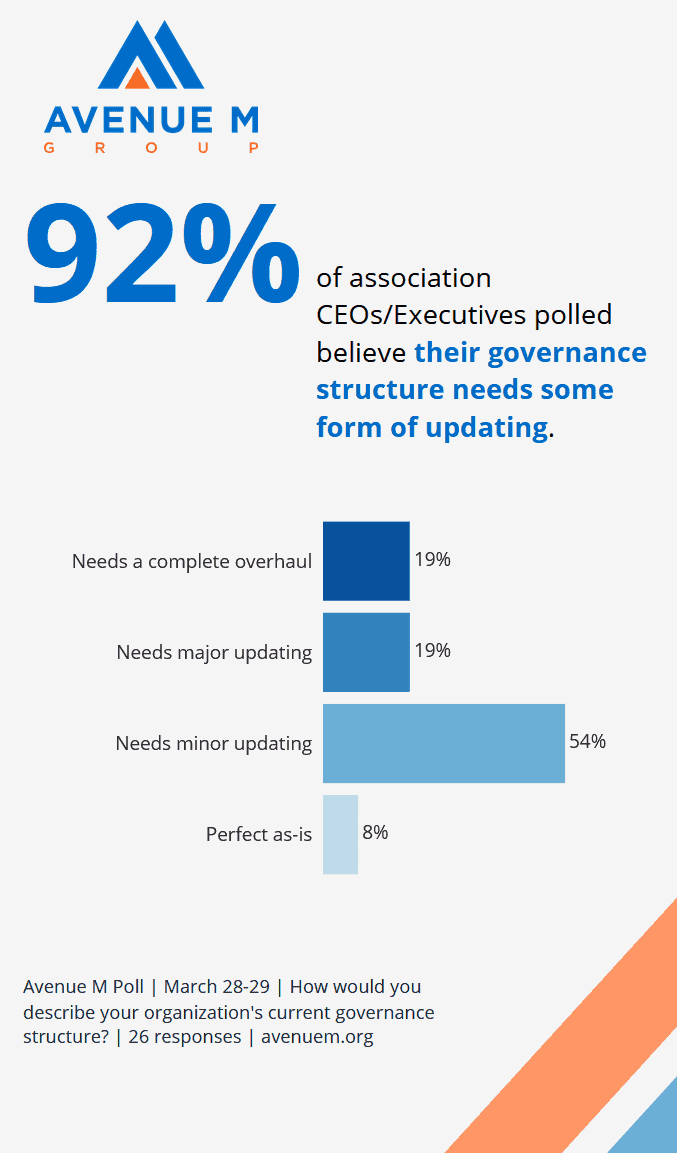 According to a recent poll conducted by Avenue M in late March, only 8 percent said it is perfect as-is, 54 percent said their board governance structure needs minor updating, 19 percent said it needs major updating, and 19 percent said it requires a complete overhaul.
When asked what they would change about their governance structure, one CEO/executive panelist, who reported needing a complete overhaul, said, "Modernize it to reflect best practices in board committee structure, DEI, improved policies, and maximizing volunteer engagement."
Another panelist, who shared that they need a major revamp, said they need to update their constitution and bylaws and "follow a decision tree that allows decisions to be made that benefit all, not just the vocal minority." They also need to streamline by having fewer committees and not as many members on the board of trustees.
One executive, who shared their structure needs a major update, said they need to increase "diversity and mechanisms for bringing in fresh voices," and remove or reduce "the power of the select few who have it so there's greater engagement from multiple levels."
A panelist, who shared that it was time for a minor update, said they need to include and clarify the eligibility criteria on board applications so they can recruit members who bring experience in leadership and nonprofit board management, and shift away from electing board members based on their clinical or research recognition.
"Association governance traditionally focuses on the turnover/opportunity to serve versus more corporate governance, [which] is designed around competency and enterprise growth and return on investment for stakeholders," shared another leader who said it was time for a minor update. They added they would also change the board member term length, which is currently very short, given the substantial transformation underway.
And one panelist, who shared that their structure is perfect as-is, said they just "sunsetted the house of delegates and downsized the board to a range of seven to nine."
A good place to start revising an association's governance structure is by conducting a thorough review of the current governance practices and identifying areas for improvement. This may involve consulting with governance experts or conducting member surveys and focus groups with key stakeholders to gain a deeper understanding of their needs and perspectives.
Click HERE to participate in future polls.
For more insights on updating governance structures, read our quick summaries of the following articles and click the links below.
Building A Better Board Of Directors: How To Recruit, Cultivate, and Retain for Success
Recruiting and retaining a competent board of directors is a vital component of running a thriving organization, and the effort put into building a strong board is essential for achieving the group's mission.
The article offers several tips, including these, for board onboarding and cultivation:
Consider modifying bylaws to allow for longer board terms and assign mentors to create a personal bond with the organization.
Get to know board members as individuals and encourage their involvement and interest.
Deliver an experience, avoid burnout, and share each member's contributions with their colleagues.
Check in weekly with each board member to maintain a personal connection.
Keep in mind that the right board members in the right roles can have a game-changing impact on an organization for 10 years or more, so invest the time and effort to make it happen.
Inside an Effective Governance Overhaul
The Ontario Medical Association restructured its governance after frustrations over physician fee agreements exposed a bloated and insular governance structure.
The new structure has a smaller board, a more direct reporting line between the board and council, and a binding vote for board president. Three non-physicians will also sit on the board for expertise in legal, IT, and strategic planning. Diversity is emphasized in board members' areas of practice, race, and gender.
The new structure will prioritize the members' agenda through the general assembly to avoid groupthink and paralysis. A key takeaway for other organizations is to be patient when undergoing a governance overhaul and ready to act on the promises made around the changes.
Tips for Assessing Your Board Composition
To reach its full potential, an association needs a diverse board that offers unique perspectives and challenges traditional thinking. Assess your board's composition, identify core competencies, and ask whether your board reflects your community.
Use online assessment tools, member surveys, and evaluate retention to gather insights. Consult with your governance committee and follow board recruitment guidelines to ensure diversity and inclusion. Key competencies include group skills, interpersonal skills, personal leadership skills, technical skills, and integrity.
Remember that diversity goes beyond race and gender to include sexual orientation, nationality, experience, and geographic location. It is essential to have a board that accurately reflects the community it serves to be able to serve members effectively.
Want to be the first to be notified about articles like this?
You can learn more about Avenue M's texting poll service HERE.
Ready to sign up? Click HERE.
Contributors: Sheri Jacobs, FASAE, CAE & Lisa Boylan
(Image: Adobe Stock)