While preparedness varies, many organizations continue to face impediments like unclear priorities, remote work challenges, and funding.
Talking about being prepared for external disruptions and actually being prepared are two very different things, which the pandemic made very clear. Some common denominators among organizations that came through crisis relatively unscathed—and continue to persevere in the aftermath of unexpected challenges—are adaptability, innovation, and speed.
However, despite those hard lessons learned, a recent State of Organizations 2023 report from McKinsey found that only half of organizations said they are well prepared to anticipate and react to external shocks.
Organizations need to be ready to withstand outside upheaval for many reasons, including for their survival, sustained flexibility, and to maintain their competitive edge.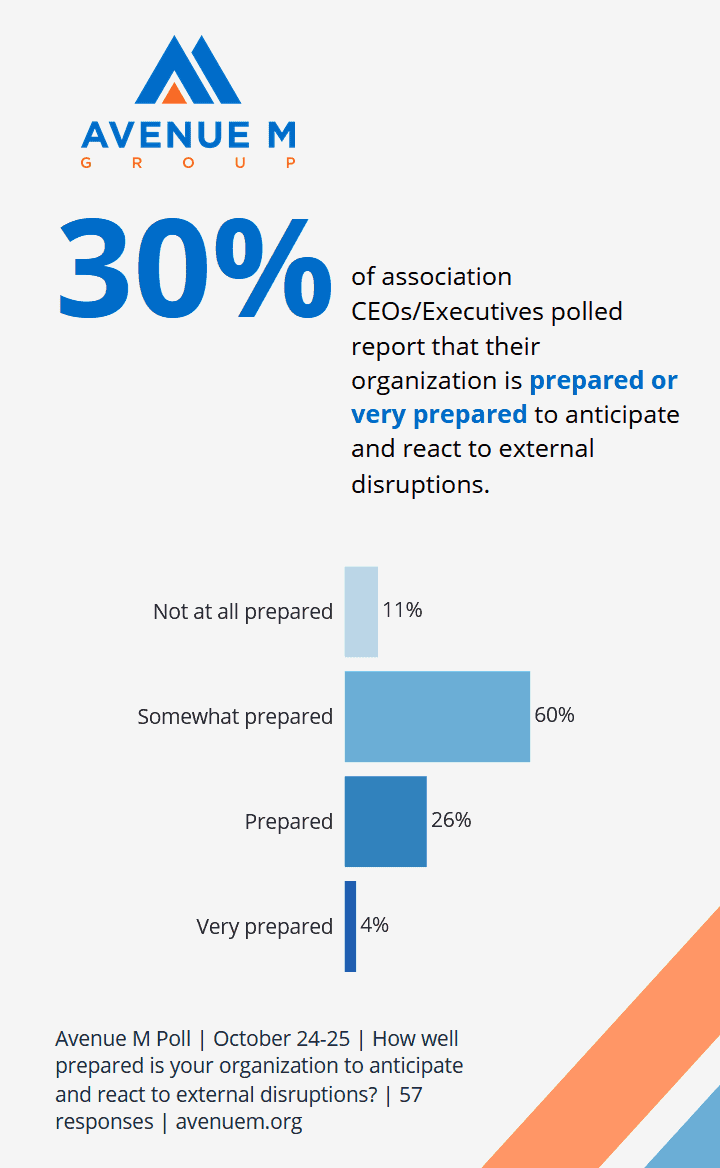 The good news is that 89 percent of associations say they are prepared to anticipate and respond to external disruptions, ranging from being very prepared to somewhat prepared, while only 11 percent said they are not prepared at all, according to a late-October Avenue M text poll.
When asked what challenges inhibit their organization's preparedness, executive panelists expressed concerns about unclear priorities, limited financial resources, challenges in communication and preparedness for remote work, limited volunteer leadership engagement, and the unpredictability of external factors.
One executive, whose organization is somewhat prepared, said, "All we can do is build capacity for flexibility!" Another leader pointed to "resources, staff availability, and governance complexity."
A CEO whose group is very prepared said they still face "unknown unknowns." Another CEO said, "The time it takes to communicate among staff and then with our volunteer leaders sometimes keeps us from being as nimble as we might need to be." And one executive said, "Members and staff are nimble to react, but we are limited based on our understanding of the disruption and funds to adapt to the disruption."
Proactively preparing for unexpected disruptions provides organizations with multifaceted benefits. It serves as a risk mitigation strategy, positions them to outperform competitors, helps earn the trust of members and partners, fosters staff loyalty, and encourages fresh ideas and flexibility.
It's not only about playing it safe but also about enhancing performance, ensuring long-term sustainability, and creating a great place to work.
Want to partipate in future text polls? You can sign up HERE.
For more insights on the importance of preparing for external disruptions, read Avenue M's quick summaries of the following resources, and click the links below.
Building a Disruption-Ready Workforce
Leadership is no longer confined to the top tier; it's essential across all levels. Effective leadership development should prepare people to thrive in a dynamic environment, where they must be comfortable with uncertainty, willing to take calculated risks, and adept at providing guidance when situations get chaotic.
In contemporary workplaces, rapid change is the new normal, and leadership development should equip individuals at all levels to embrace this reality. This involves fostering a comfort with ambiguity, encouraging thoughtful risk-taking, and honing the ability to provide clear direction when faced with dynamic challenges.
How to Manage Workforce Risk Amid Old Challenges, New Disruptions
In the current job market, workforce risks extend beyond traditional ones. They include online behavior, data security, alignment with values, and adaptability. A survey of C-suite executives by Deloitte and Oxford Economics reveals that only 34 percent feel adequately prepared for the next three years, despite many expressing confidence.
Pioneering companies excel in workforce risk management, boosting key performance indicators. To address these issues, organizations should take pioneering approaches, involve both C-suite leaders and line managers, and consistently mitigate these risks to stay competitive in a talent-centric environment.
Business Disruption Part 2: External and Internal Forces of Disruption
The business world is rapidly changing and that means organizations need to adapt to both external and internal changes. Externally, this means responding to shifts in technology, competition, member preferences, globalization, and regulations. Internally, it involves nurturing innovation and investing in employee growth to thrive amid disruptions.
 Want to be the first to be notified about articles like this? You can learn more about Avenue M's texting poll service HERE.
Contributors: Sheri Jacobs, FASAE, CAE & Lisa Boylan
Image: Adobe Stock