Over Half of Association CEOs/Execs Are Open to Membership Sharing.
Sharing benefits with nonmembers can have both positive and negative impacts on professional societies. While it can reduce the likelihood that nonmembers will ever join, there are potential advantages to allowing membership sharing, like unlocking new revenue streams, expanding reach, and boosting dwindling engagement numbers by attracting new customers.
Sharing membership benefits is not new–or rare–and it's not restricted to the association sphere. People have been sharing passwords for all kinds of services for quite a while, including streaming, retail, and lodging. Think: Netflix, Amazon, and Airbnb.
Despite the potential challenges of sharing benefits, such as regulating exclusive access and meeting the needs of both members and nonmembers, the rewards of membership sharing appear to surpass the risks for many organizations. And, it turns out, many association leaders agree.
According to a recent poll conducted by Avenue M in mid-March with 26 association executives, 54% said they are not at all concerned about members sharing benefits with nonmember colleagues, 38% said they are moderately concerned, and only 8% said they are extremely concerned.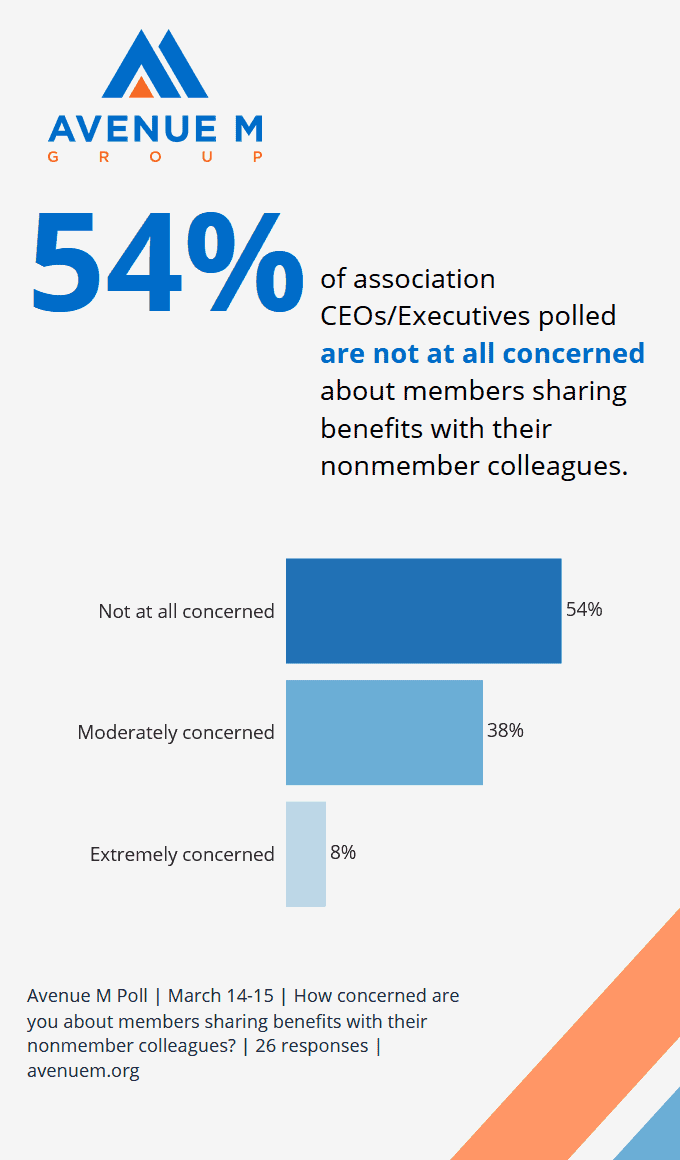 When asked if sharing benefits with nonmember colleagues impacts membership recruitment or retention in a positive or negative way, one association CEO/executive shared, "I feel if you are confident in the value your benefits provide, you should advertise it to get new members and also to remind current members what they get."
"I can see both ways," another panelist said, adding they would hate to lose a membership opportunity, but that the exposure could help a prospective member see the value of joining the association.
"We have very low dues and intentionally don't make membership a barrier to participation," one leader said. "So, no real impact–positive or negative."
"I am an optimist. If we are providing good content and opportunities for connection, potential members will see the return on their investment and may decide to join," another panelist shared. After all, as they point out, "You can only ask a friend for a favor so many times."
To balance these impacts,organizations should clearly define member-only benefits, communicate effectively, and monitor the impact of sharing benefits with nonmembers.
Click HERE to participate in future polls.
For more insights on striking the right balance between allowing members to share benefits with colleagues and avoiding potential risks, read our quick summaries of the following articles and click the links below.
The Benefit of Sharing Benefits
The sharing economy is real and the trend has thrived in many different arenas, including streaming services, online retail giants, and shared-lodging sites (e.g., Netflix, Amazon, and Airbnb). The article highlights the advantages of encouraging membership sharing, including increased sales and outreach, and argues that associations can benefit from the sharing economy trend.
"Even if some restrictions applied, it could increase your reach, increase sales, and increase the overall value of membership," according to Avenue M Group's President and CEO Sheri Jacobs, FASAE, CAE, in this excerpt from her book, Pivot Point: Reshaping Your Business When It Matters Most. "By creating an option to legitimately share membership with colleagues, organizations could identify prospects and their buying behavior and better serve the needs of this market."
Specifically, there are advantages to allowing members to share entry into association annual meetings. However, associations first need to review their policies, and consider restricting some of the tangible benefits such as certification or continuing education credits. The article offers practical examples of how one association overcame barriers to attracting C-Suite executives to its conference.
A Surge in Members Is Great, But How Do You Keep Them?
During the pandemic, like many associations, the American Nurses Association (ANA) quickly adapted to meet the needs of its members–and nonmembers–by providing free webinars to all nurses. This led to a surge in membership, with 23,000 new members joining in April and May 2020 alone.
For ANA, providing high-profile engagement for nonmembers and connecting with the entire market through free education or accessible information on the organization's website was critical because it engaged the entire profession, showing both members and nonmembers what ANA could do for them.
ANA's successful response to the pandemic highlights the positives of opening benefits to all individuals of a profession and providing a strong organizational foundation to innovate on the fly and meet member and nonmember needs in a crisis–and beyond.
Sharing With Nonmembers: A Glass-Half-Full Perspective
Associations often worry about nonmembers just taking benefits, but this overlooks the potential value of extra exposure. People who want to "steal" a product must see its value, and sharing benefits can be a good thing, ultimately leading to increased interest and membership.
Rather than focusing on the security of members-only benefits, associations should consider the upside of exposure. The concern over too many nonmembers gaining free access can be addressed by making benefits harder to take and easier to buy.
Making products and services easier to buy can lead to a significant increase in sales. Therefore, organizations can turn potential members into customers or prospects through smart tactics, ultimately increasing interest and membership.
Want to be the first to be notified about articles like this?
You can learn more about Avenue M's texting poll service HERE. Ready to sign up? Click HERE.
Contributor: Sheri Jacobs, FASAE, CAE & Lisa Boylan
(Image: Adobe Stock)