59% of association CEOs/Executives say their organization tracks net promoter score (NPS).
How do you know if your members or customers are really satisfied with your organization and what it's offering?
A good way to find out is by measuring a net promoter score (NPS), which unlocks useful information that can help you assess where you need to improve as an organization, measure the probability of customer loyalty, and provide real-time direction for change and improvement.
In a recent poll conducted by Avenue M in late January with 22 association CEOs/Executives, 59% say they measure NPS, while 41% say they don't.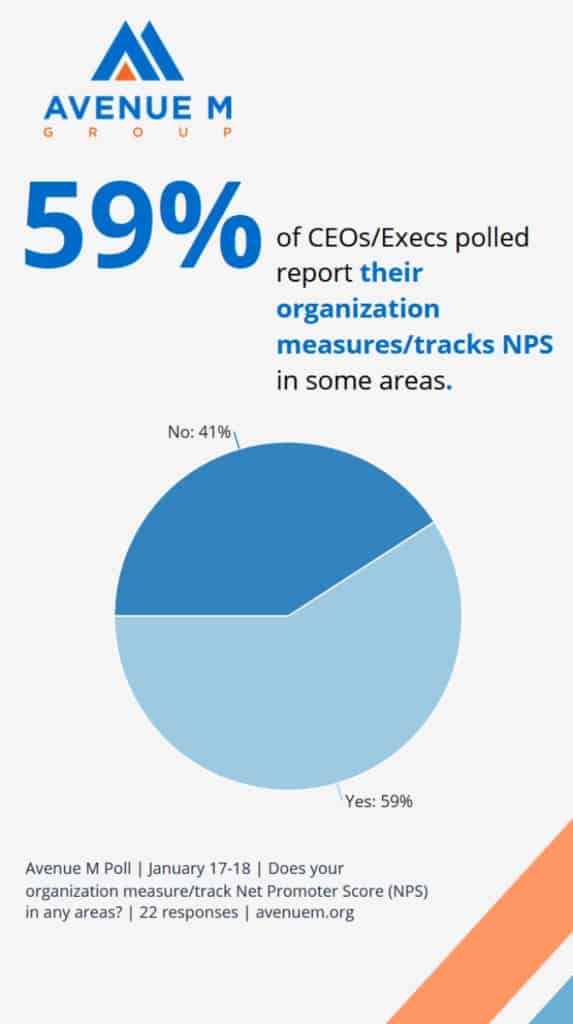 NPS intelligence is obtained through a quick survey, which asks members or customers on a zero-to-10 scale how likely they are to recommend the organization, program, product, or service to a friend or colleague. It is particularly valuable given how fast positive or negative perceptions about an organization can travel on social networks.
The NPS score is divided into three groups: promoters, passives, and detractors.
Promoters (rating of 9 or 10) are loyal enthusiasts who will refer others.
Passives (rating of 7 or 8) are satisfied but unenthusiastic.
Detractors (rating of 0 to 6) are unhappy and can damage the brand or impede growth.
Click HERE to participate in future polls.
Avenue M President & CEO Sheri Jacobs, FASAE, CAE, recommends that an organization strive for a minimum of 50 percent of their members or customers falling into the promoter category and ideally having an even higher percentage of their members as promoters. "Narrowing the gap between the percentage of their members who could be categorized as promoters and the baseline of 50 percent should be incorporated into an organization's strategic goals."
How to Effectively Use NPS
"Once you've measured your NPS, the next question is what to do with the data," Jacobs said. "We know that when your organization delivers a remarkable experience you increase the likelihood that members will renew, register for another program or event, and recommend your organization to colleagues and friends. In other words, they will become advocates for your organization."
Where to start? Jacobs offers the following recommendations.
Get a pulse check. Use your NPS to help better understand where your organization is most vulnerable. For example, you may find the NPS for newer members to be significantly lower than those who have been with the organization for five or more years. Or you may find that individuals who attend your annual conference are more likely to be promoters than those who do not have the opportunity to attend. Although this might make sense logically, you now have the data to help you justify an increase in investing in broader experiences that can be accessed by a larger number of members.
Map it out. Develop a plan to help members be more aware of their benefits so they will use more of them. It is not enough to assume they know all the benefits your organization offers, such as career advancement, professional development, volunteering, or attending a CE program. Connect the dots between their professional goals, their jobs to be done, and how your benefits will help them achieve those goals.
Start small. Identify one thing you can do to improve every interaction with your organization. Just one thing. For example, you may need to better personalize the communications and connect with members within the first 40 to 50 days. Another example is going the extra mile to help members make the most of their membership or their experience at a conference or webinar. Provide them with suggestions on how others have maximized their experience, connected with new colleagues, or gained new skills.
Want to be the first to be notified about articles like this?
You can learn more about Avenue M's new texting poll service HERE. Ready to sign up? Click HERE.
Contributor: Lisa Boylan
(Image: Adobe Stock)