84% of association CEOs/Executives have not surveyed their members on their level of ESG interest. That doesn't mean associations aren't invested in advancing socially conscious initiatives, it might have more to do with other pressing concerns and priorities. Here's a look at both sides of the equation.
Implementing Environmental, Social, and Governance (ESG) initiatives could potentially boost member engagement and satisfaction, provide valuable resources to members, and help associations earn their social license while delivering meaningful impact over the long term. But ESG may not be the main thing for many associations.
For instance, some associations may have a more industry-specific focus that doesn't always align with ESG principles. For others, ESG may not be a top priority for its members, depending on their interests. Limited resources can also impede some associations from putting significant effort into ESG initiatives.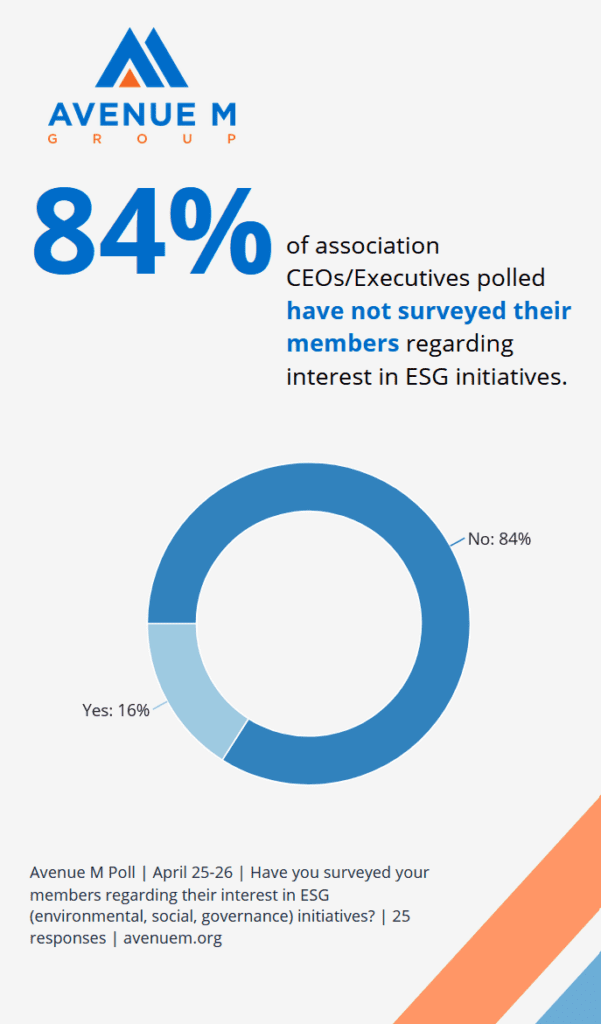 That's why it's interesting, but perhaps not surprising, that a recent text poll conducted by Avenue M with its panel of CEOs and senior executives in late April–revealed that an overwhelming majority (84 percent) of associations have not surveyed members on their level of ESG interest, while only 16 percent have.
When panelists who indicated they have surveyed their members on ESG interest were asked what types of initiatives they are planning on or already offering, one CEO shared that their organization will be conducting "a governance survey this year."
Another CEO shared that their association "submitted comments to the [Securities and Exchange Committee] SEC on behalf of the industry" it represents. Which is notable because in 2022, the SEC announced that it is proposing new rules that would require more detailed disclosure of climate-related risks and greenhouse-gas emissions.
As with other social responsibility initiatives, like DEIA, ESG comprises a lot more than just checking a box to signify an organization has accomplished a few steps in a positive direction. ESG can also help boost member engagement and satisfaction. For example, members who are aware of an association's ESG efforts may be more likely to feel connected to its mission and goals.
An association's ESG efforts can also provide members with a valuable blueprint and resources that might help them incorporate ESG principles into their own businesses or organizations. Even so, many associations might not currently have the bandwidth, staff, and resources to make meaningful ESG strides.
Click HERE to participate in future polls.
For more insights on ESG and what other associations are doing to incorporate it, read our quick summaries of the following resources and click the links below.
Does ESG Really Matter—and Why?
This McKinsey Quarterly article acknowledges the many positive aspects of ESG, pointing out that ESG has been gaining popularity since its inception in 2005, and that over 90 percent of S&P 500 companies and 70 percent of Russell 1000 companies invest in improving ESG.
It also discusses some common criticisms about ESG, including the following examples.
ESG is sometimes seen as a distraction that gets in the way of businesses making money while following societal rules.
Implementing ESG can be difficult, and striking a balance that pleases all stakeholders is challenging.
ESG scores may not accurately reflect an organization's performance, with some critics arguing that aggregate scores are meaningless.
Overall, however, the authors conclude that while the name and concept of ESG may change over time, the underlying principle remains essential. Organizations should treat their impact on society and the environment as a core strategic challenge to earn their social license and deliver long-term impact.
We Asked, You Answered: New Sustainability and ESG Initiatives
In this recent article, five association leaders outline specifics on how their organizations are prioritizing sustainability and ESG initiatives.
Efforts include the following.
Promoting climate actions and gender equality.
Reducing waste and minimizing the use of resources through sustainable practices.
Implementing eco-friendly measures at conferences (e.g., digital publications).
Raising awareness about the role of safety, health, and wellbeing in ESG scoring–which is often overlooked.
Why Environmental, Social, and Governance Principles Are Good for Everyone—Including Members
ESG is all about measuring how sustainable and ethical an investment in a business or organization is. It's becoming more popular and important for businesses, so it might be a good idea to think about how it fits into your mission and strategy for the benefit of your members.
Here are three ways associations can embrace ESG.
Create a formal ESG plan that is implemented and understood throughout the organization, including policies for responsible decision-making.
Educate members on ESG principles, providing resources and opportunities for idea exchange.
Set up metrics to track progress towards ESG goals and promote the progress to engage members.
While implementing ESG principles may seem challenging, associations can adapt at their own pace, incorporating ESG into their strategy and culture.
Want to be the first to be notified about articles like this?
You can learn more about Avenue M's texting poll service HERE.
Ready to sign up? Click HERE.
Contributors: Sheri Jacobs, FASAE, CAE & Lisa Boylan
(Image: Adobe Stock)