Moving toward innovation and new horizons, most association executives seek pathways through products and programs to stimulate growth and increase profits.
In the world of associations, relying solely on membership dues can be risky and limit an organization's ability to grow and adapt. That's why constantly innovating by introducing new products and programs—and updating existing ones—is key. New and revamped offerings keep members engaged, help ensure associations remain relevant, and are an excellent way to fuel additional revenue.
Not surprisingly, boosting revenue is a goal for many associations. For example, 44 percent of association leaders said it was a top priority in an Avenue M text poll at the beginning of 2023.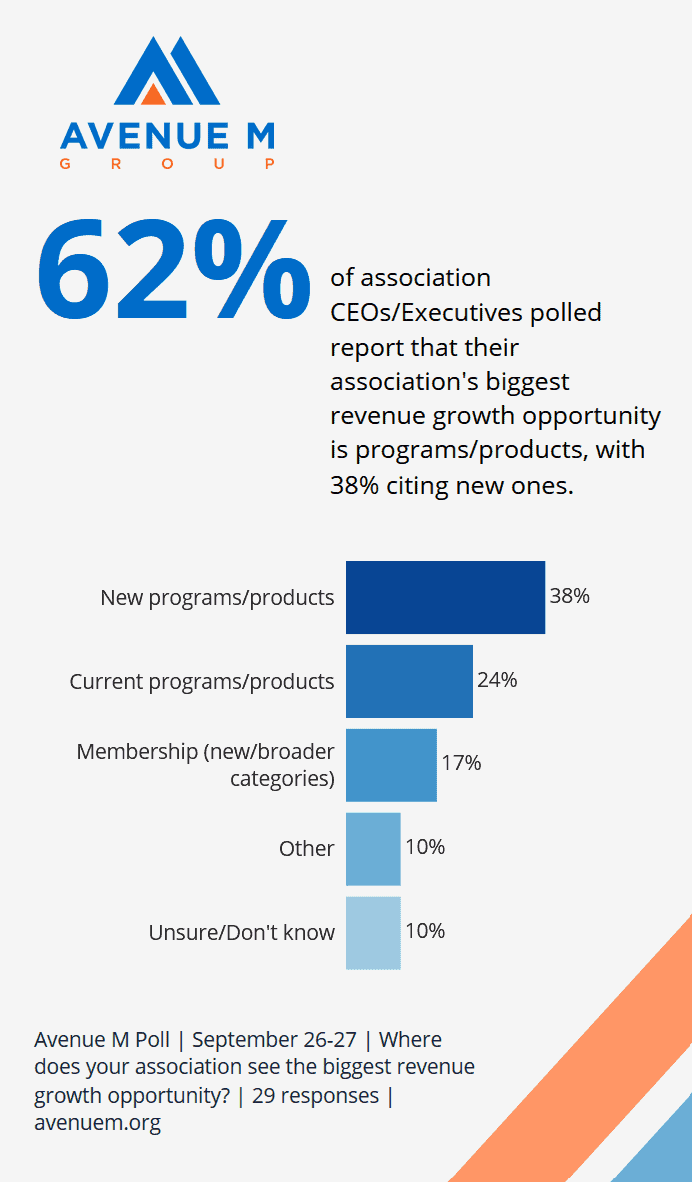 That's why many associations—galvanized by higher risk tolerance and speedier turnaround times during the pandemic—are charging ahead. A majority—62 percent—of association CEOs and executives said they see the biggest revenue growth opportunity in developing new products and programs—or sustaining existing ones—and 17 percent are looking for opportunities in membership growth, according to a late-September Avenue M text poll.
When asked where they see the greatest revenue growth opportunity, one executive panelist, who pointed to a recent focus on current programs and products, said, "We have been leaving money on the table, so we have a new focus on our growth strategy," adding that it's time to "shake the COVID cobwebs off."
Another panelist said that current programs have been a long-term target for growth, but there is a larger emphasis on it now that they have "recovered from our COVID-era slump." One executive, who also said new programs have been a "long-standing goal for growth" and a recent focus in their strategy development, noted that changing the association's "event strategy and format will be a big revenue opportunity moving forward."
And one leader said their organization recently started targeting new markets and audiences for "revenue diversification."
Developing new products and programs is vital for associations to remain relevant, engage members, generate revenue, and effectively fulfill their mission. It allows them to adapt to changing circumstances, meet the evolving needs of their members, and ensure long-term sustainability.
Want to partipate in future text polls? You can sign up HERE.
For more insights on boosting revenue, read Avenue M's quick summaries of the following resources and click the links below.
Report: Revenue Strategy Lacking at Many Associations
The Association Business Development Landscape Report released earlier this year by the Professionals for Association Revenue found that many association executives aren't confident about hitting their budget goals, with less than half feeling good about membership and sponsorship targets.
The biggest hurdle—according to 33 percent of respondents—is staffing and resources. Only 12 percent believe their business strategies are working, and over half have a dedicated sales budget. Many associations tackle revenue generation separately, missing shared objectives.
The report suggests better data collection, but despite 70 percent using customer relationship management systems, only some track finances or sales effectively. Associations did try new things during the pandemic, like webinars and online courses, but only 16 percent were ready for that shift. Aligning the business side with their mission is a work in progress.
Why Your Sponsorship Program Needs a Refresh
Sponsorship dynamics are changing as for-profit companies seek educational content and deeper association engagement. Traditional offerings are no longer sufficient, and associations must explore year-round partnerships to drive revenue.
Collaboration and thought leadership—e.g., content-focused initiatives and tailored content tracks for sponsors—are becoming pivotal in strong sponsorship programs, which means associations need to stay nimble and responsive to what sponsors want.
Why Nonprofit Tax Status Shouldn't Hinder Efforts to Turn a Profit
An association's tax status doesn't eliminate the need for financial viability. Nonprofits often believe they shouldn't pursue profits because of their tax-exempt status. However, nonprofits must establish sustainable business models and generate revenue to support their operations and create a financial cushion.
To succeed, nonprofits need a culture that prioritizes activities with positive net revenue and diversifies income sources. This includes proper cost allocation and discussions about profits and highlighting program contributions to financial health. While some programs may never profit, developing profit-generating products to support those that don't is crucial.
Establishing a fund for member-focused, non-profitable activities can help strike a balance and ensure financial sustainability, which means strategic planning, education, communication, and consistent execution.
 Want to be the first to be notified about articles like this? You can learn more about ASAE and Avenue M's texting poll service HERE.
Contributors: Sheri Jacobs, FASAE, CAE & Lisa Boylan
(Image: Adobe Stock Images)