While the U.S. lags in prioritizing paid parental leave, associations lead the way in providing the benefit for both parents. And those that don't provide it offer alternative options.
Associations show widespread support for parental leave, according to a recent study conducted by ASAE and Avenue M, and even those that do not offer it provide other options.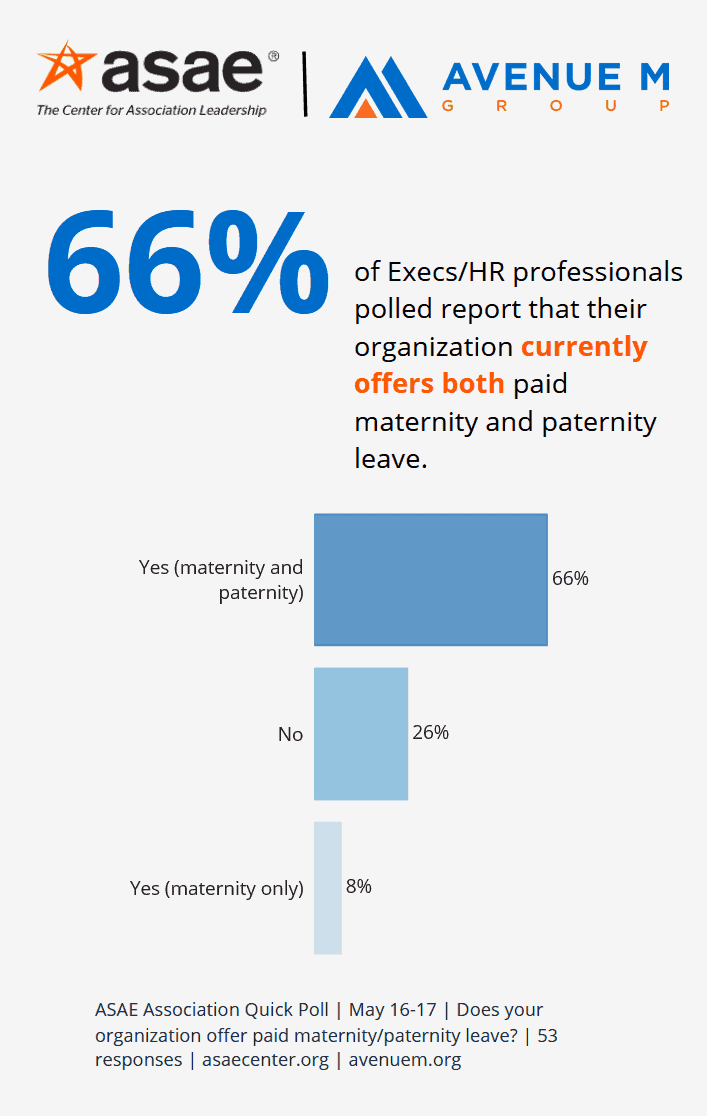 The mid-May text poll found a majority of associations (66 percent) said they provide both paid maternal and paternal leave, 26 percent said they do not offer it, and 8 percent offer only paid maternity leave.
"We provide eight weeks of leave for moms and dads," said one HR leader. "It is comprehensive and can include different types of specific leave." Another executive panelist, whose group also offers both, said they offer "six weeks for the primary caregiver and three weeks for the nonprimary."
The U.S. is the only country among 41 nations that does not mandate paid parental leave despite Americans largely supporting paid leave. Most supporters say employers, rather than the federal or state government, should cover the costs, according to a Pew Research Center study.
The ASAE/Avenue M survey found there are many ways to support employees' needs to encompass more than just leave to take care of new children.
One HR executive, whose group does not provide parental leave, said, "We offer a substantial amount of sick pay that can be used for the care of a child, spouse, or parent. We felt with our aging workforce, it made more sense to provide paid time off for all, not just the younger staff still in their childbearing years."
Another HR leader whose group doesn't offer parental leave said, "Employees may use short term disability and supplement with accrued leave. They are also covered by FMLA [Family and Medical Leave Act] and allowed to roll over additional leave from a prior year for maximum coverage."
Other alternatives to parental leave our panelists offer.

Sick leave, vacation, personal days, floating holidays, disability leave, and DC Paid Family Leave.
Leave without pay—and employees can use personal time off or short-term disability.
Sick and vacation leave. The group has considered adding parental leave, but employees have not asked for it, so they are focused on adding other benefits.
Overall, offering maternity and paternity leave or an alternative supports employee well-being, promotes work-life balance, and helps attract and retain top talent. It also allows employees to bond with their newborn or newly expanded family, reduces stress, and demonstrates an organization's commitment to its employees' personal lives.
Click HERE to participate in future polls.
For more insights on parental leave, read our quick summaries of the following resources and click the links below.
The Urgent Necessity for Paid Parental Leave
Despite research emphasizing the importance of early attachment, U.S. policies haven't reflected this understanding. The Build Back Better Act aims to provide four weeks of paid family leave, but without it, workers are left with only unpaid leave through the Family and Medical Leave Act, which many can't afford and excludes some workers.
Psychologists have contributed to the growing body of evidence highlighting the positive impact of paid leave on physical health, mental well-being, and family stability. They are actively working to promote these findings to policymakers and organizations, emphasizing the importance of paid parental leave in reducing financial stress, supporting parent-child bonding, and fostering gender equality in caregiving responsibilities.
It's Good for New Moms When Dads Can Stay Home
When fathers are given the flexibility to take time off work after their children are born, it has a positive impact on the postpartum health and mental well-being of mothers, according to a study by Stanford economists.
The study focused on a reform in Sweden that allowed fathers to take intermittent paid leave within the first year of their child's birth. The policy change led to a decrease in childbirth-related complications, postpartum anxiety, and antibiotic prescriptions for mothers, underscoring the important role of fathers in supporting the physical and mental well-being of new mothers.
The findings add to the ongoing discussions on paid family leave policies and emphasize the significance of workplace flexibility for fathers in achieving positive outcomes for the entire family.
Why Family-Building Benefits Have Become Essential in Today's Workforce
Employers are starting to realize how important it is to offer more than just parental leave as part of their compensation packages. These comprehensive family-building benefits are essential for attracting and keeping a diverse range of employees, including different types of couples and single parents. They can even make or break a candidate's decision to accept a job.
The recent trend of people quitting their jobs—the Great Resignation—and the increasing diversity of families have pushed employers to step up their benefits game and create innovative programs that support employees' family goals, no matter who they are. This will likely lead to more support for different aspects of family life, going beyond the usual healthcare benefits.
 Want to be the first to be notified about articles like this? You can learn more about Avenue M's texting poll service HERE.
Contributors: Sheri Jacobs, FASAE, CAE & Lisa Boylan
(Image: Adobe Stock)