A recent survey by the American Society of Association Executives (ASAE) and Avenue M Group found that nearly half of associations (48 percent) offer substantial contributions to employee retirement funds.
The pandemic and an unstable economy upended employees' jobs, finances, and retirement plans making it more vital than ever for employers and lawmakers to step up and proactively respond to help workers recover from a tumultuous time.
Change is underway. In response to skyrocketing inflation, the IRS recently bumped up the annual contribution limit for 401(k) retirement accounts by nearly 10 percent in 2023, the largest increase in years. That means employees can now put up to $22,500 a year—up from $20,500—into their employer's savings plan. And, if a worker is 50 or older, they can contribute up to $30,000.
That is particularly timely as retirement contributions are a high priority for employees, especially ones who are further along in their careers. They would rather receive a higher employer match contribution (57 percent) than more paid time off (43 percent), a Fidelity fact sheet noted.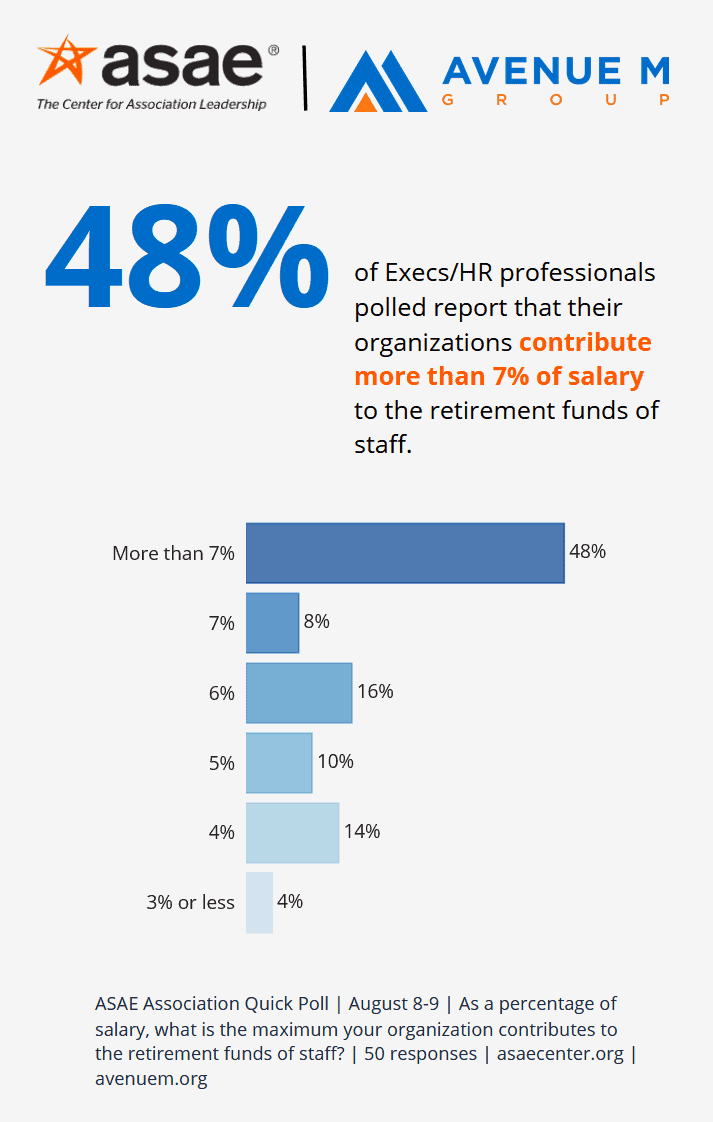 Associations are ahead of the curve and demonstrating a strong commitment to generously supporting their employees' long-term financial security and well-being. Forty-eight percent of HR executives and CEOs said they contribute more than 7 percent to employee retirement funds, 16 percent said 6 percent, while only 4 percent said 3 percent or less, according to an early-August ASAE and Avenue M Group text poll.
When asked if their organizations are considering increasing contributions, most said they were not, but some offer other options. One HR executive said, "We are not increasing but remain steady with an 8 percent automatic contribution, plus a match of up to an additional 2 percent, for a total 10 percent contribution."
Other organizations mentioned they won't raise contributions but will implement auto-enrollment to maximize the employer match, while another is exploring changes to the vesting schedule and waiting period.
Want to partipate in future text polls? You can sign up HERE.
Providing great retirement benefits has many advantages. It helps attract and retain top-notch talent, makes staff happier and more loyal, and shows members and other stakeholders that the association is a caring and responsible employer. Making sure employees are financially secure not only boosts job satisfaction but also aligns with bigger goals, making the association even more successful.
For more insights on retirement and economic trends, read Avenue M's quick summaries of the following resources and click the links below.
Employers Are Enhancing 401(k) Plans to Attract and Keep Talent
Recent studies suggest U.S. employers are improving retirement plans for employees' well-being, security, and retention. Changes include redirecting contributions and increasing automatic deferral amounts, according to a survey by WTW (formerly Willis Towers Watson).
Over 55 percent of respondents in the WTW survey expect attraction and retention challenges, with 35 percent planning to separate their defined contribution plans to address employee preferences and secure top talent. Enhancing plans with flexibility and retirement planning assistance can set employers apart.
During the pandemic, Fidelity Investments found that 63 percent of respondents improved their investing habits, and Guideline reported that small-business employees increased their average monthly 401(k) contributions from $646 to $783, with an 82 percent participation rate. The pandemic's economic uncertainty seemed to strengthen employees' resolve to save for retirement.
U.S. plan sponsors are focused on reducing fees, benchmarking, and analyzing costs, according to Callan's 2022 Defined Contribution Trends Survey. They plan to transition to lower-cost investments and renegotiate service agreements to prioritize fees in 2022.
As Financial Stress Soars, HR Leaders Struggle Too
Money worries are hitting employees and HR executives alike due to inflation, the pandemic, and industry upheaval. A 2023 BrightPlan survey found 77 percent of HR executives feel financial stress and have lower financial literacy rates. In addition, about 62 percent of HR leaders struggle with debt.
This shows a need for holistic well-being efforts since money stress affects overall wellness. Notably, while HR professionals promote financial wellness to staff, they often forget it's for them too, concentrating more on making sure employees know.
Retirement Security Across Generations Is Faltering in the Post-Pandemic Environment
A survey by Transamerica Center for Retirement Studies reveals that 41 percent of workers think future retirees will be worse off than current ones. The pandemic and shaky economy have hit jobs, finances, and retirement plans hard.
The study looks at how different generations of U.S. workers are handling retirement prep and offers advice for individuals, employers, and policymakers.
 Want to be the first to be notified about articles like this? You can learn more about ASAE and Avenue M's texting poll service HERE.
Contributors: Sheri Jacobs, FASAE, CAE & Lisa Boylan
(Image: Adobe Stock)