44% of association CEOs/Executives say their number-one challenge heading into 2023 is revenue.
It's no secret that the past few years have been–to say the least–a lot. And now, with a new year fast approaching, it seems like it's high time to be hopeful, turn the page, and leave yesterday in the rear-view mirror. There's reason for some optimism as gas prices continue to recede, but an unpredictable economic climate persists fueled by perilously high inflation, disappointing job growth numbers, and soaring interest rates. As exciting as it is to welcome a new year, it's natural that many association leaders are apprehensive about what lies ahead.
In a recent poll conducted by Avenue M in late November with 18 association CEOs/Executives, 44% shared that revenue is a top challenge for 2023, 22% pointed to staffing, 17% said expenses/inflation is a concern, and 17% anticipated membership will be a challenge.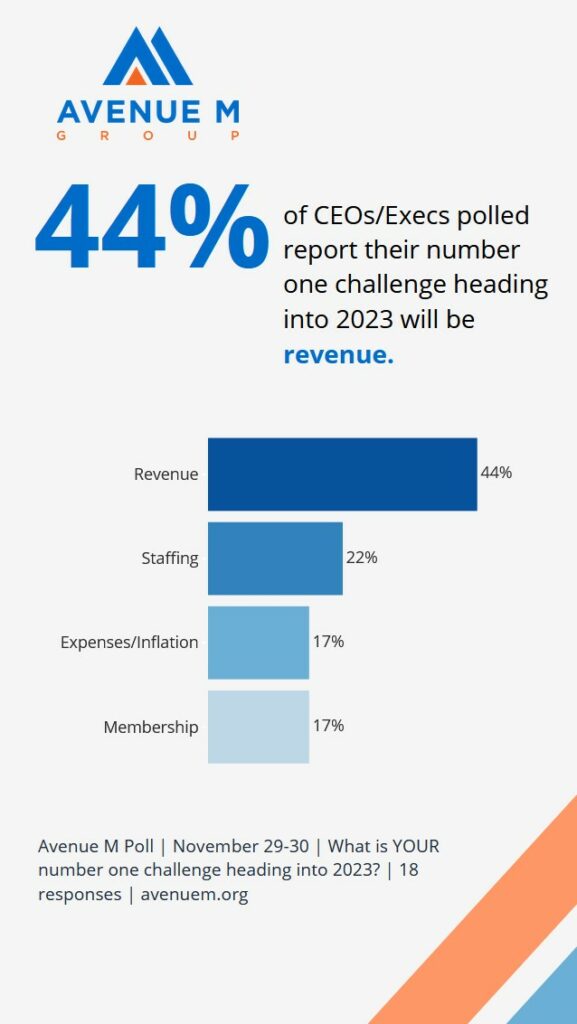 Click HERE to participate in future polls.
One CEO panelist, who indicated revenue will be a top challenge, said, "We have engaged a consultant to look at our business model, what our current market is, and what it wants from us."
Another executive, who cited membership as a main challenge, said their group needed to conduct a "deep dive into member motivations and drivers," which they emphasized have changed "dramatically" over the past three years.
Notably, one executive, concerned about staffing, shared that their organization left its association management company (AMC) and is starting from the ground up to redefine payroll and all of its human resources functions.
"We are taking stock of what needs to be done, identifying required competencies, and will hire accordingly."
And one leader, who cited expenses as an issue, said they were conducting strategic discussions related to diversification of revenues and reviewing a previous decision to make on-demand education free.
A big lesson many association leaders learned during the multiyear crisis is that even in adversity, there is a way out, and upheaval can sometimes be a catalyst for positive change. Associations relied on the same-old, same-old for decades, and many have been forced to look for new ways to not only function but endure. Finding creative, strategic, and effective ways to move forward is not only possible, it's often beneficial. Here are some tips and examples of what other associations have done–and are doing–to not only stay afloat but persevere.
Read our quick summary of the following articles and click the links below.
Five Associations That Landed Nondues Revenue in 2020
Looking for ways to boost revenue aside from increasing membership dues became a critical priority during the pandemic as associations were mindful that their members were facing the same financial hardships they were.
However, as precarious economic times persist, it's essential for associations to continue to be agile, strategic, and innovative in sourcing sustainable ways to generate nondues revenue.
Find out how five very different associations found timeless ways to tap nondues revenue, including building new product lines, increasing year-round sponsor engagement, boosting outreach for educational programs, and collaborating with strategic partners on a career center.
What New Research Reveals About Retaining Employees
The Great Resignation is real, and it doesn't look like it's going anywhere either. However, recent reports point to some good news, which can help associations keep their top talent.
Really understanding what employees want is key. Hint: It goes way beyond a monthly cake day. But it's important to note it is not just one thing, it's complex, kind of like how people are.
It's no surprise that salaries remain a top priority for employees, according to a report from the Society for Human Resources Management, but other factors include finding meaningful work that employees can be passionate about.
The pandemic caused many people to reevaluate what they want professionally, and work-life balance became much more than a catchphrase.
For example, another report, "What Workers Want 2022: The State of Work and Career Success," found that 62% of workers want the flexibility to work from anywhere, and 59% said spending time with family was important. Additionally, a poll from Zapier found that 61% of workers would leave their jobs if they found one that offered remote work.
Times have changed and meeting employees where they are–with what they actually want–is going to be critical in attracting and retaining the best and the brightest talent.
Tips for Creating More Personalized Connections With Your Members
Searching for other revenue streams is key, but ultimately it all comes back to members. They are the engine that keeps associations running, and developing better personal connections with them helps keep them engaged–and coming back.
"In creating space for personal connections, associations create value for members of all career stages," writes Jeanette Gass, former membership development director at the American Association of Public Opinion Research.
Gass details three clear and accessible ways to increase personal connections with members.