Survey Results on the Impact of COVID-19 on the Association Industry – Week 1 (March 10 – March 16)
Written by the Avenue M Team
The situation surrounding the Coronavirus Disease 2019 (COVID-19) seems to be changing daily. To better understand how this novel outbreak is affecting associations and to create an industry benchmark, Avenue M launched a quick, 2-question survey for association professionals representing a variety of professions and industries. The results below were collected between March 10 – March 16, 2020. We heard from more than 100 association professionals.
Concerns about Financial Health/Stability
Overall, nearly two-thirds (65%) of association professionals are concerned or very concerned about COVID-19 negatively affecting the financial health/stability of their association in the next 12 months.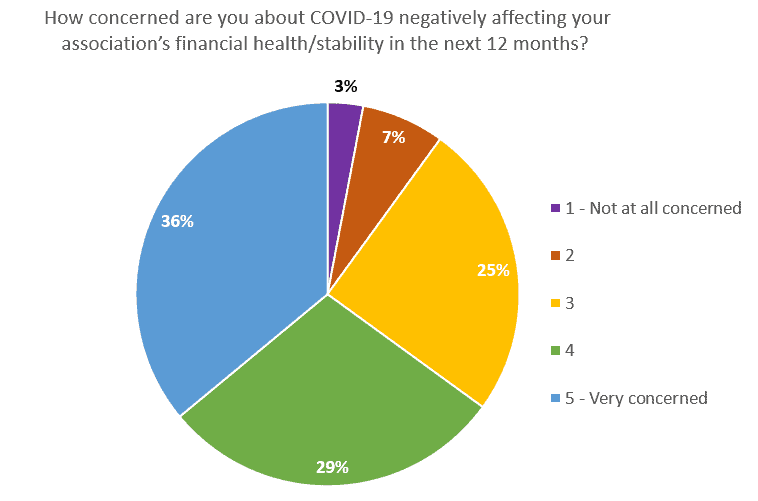 Despite many association professionals being concerned about financial health/stability, less than half (47%) are planning to revise their current budget, and only around one-quarter (27%) plan to diversify their portfolio of offerings and revenue streams in the coming months.
Planning for the Months Ahead
Most associations are enacting several changes as a result of COVID-19, the most common of which are cancelling in-person events and converting in-person events into online events. Six in ten association professionals also plan to focus more on providing online engagement opportunities to members.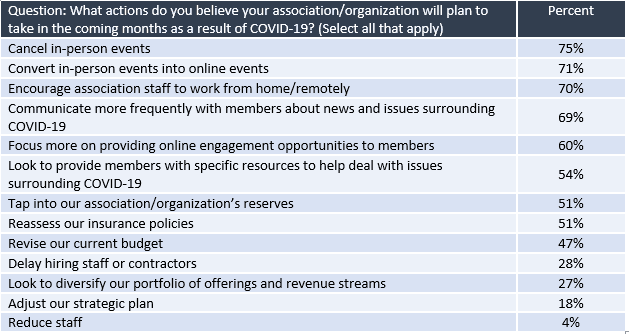 Member Communications: Nearly seven in ten association professionals are planning to communicate more frequently with members with updates related to COVID-19, and more than half are planning to provide members with specific resources to help address issues related to COVID-19.
Internal to the Association: Seven in ten association professionals are encouraging staff to work from home or remotely. Slightly more than half are planning to tap into their reserves and to reassess their insurance policies. In terms of staffing, almost three in ten may delay hiring staff or contractors, but fortunately, less than 5% plan to reduce staff.
In order to track how the impact on associations may be changing over time, we are launching the second wave survey in the next day or two. Check in next week (March 24-27) for the results of the second wave!